The Professional of the month of this edition is Eng. Rogelio Guzmán, technical sales manager Mexico of Lennox.
By Duván Chaverra Agudelo
Rogelio Guzman is a leading professional in the HVAC industry. His experience and charisma has allowed him to fit into a sector that he was passionate about since he was very young.
This Mexican born in 1971 in Mexico City, is also in love with nature and care for the environment. For that reason he was clear in wanting to leave his city of birth soon fleeing the superpopulation and traffic. Today he lives in Cancun, Quintana Roo, from where he performs his duties as technical sales manager Mexico for Lennox Global.
His career in air conditioning began in York (before being Johnson Controls) in 1998. After 9 years he started working with a large distributor in Cancun, and it is there that he met the engineer Rafael Rojo, who takes him to Lennox to attend the Walmart account in Mexico.
"Having Lennox a person in Mexico, distributors have already started coming to me for training, support and help them with their national accounts. Later my colleague Gustavo Alpizar was hired and I was assigned to attend to two distributors and sales to the National Accounts such as 7-eleven, Home Depot and Soriana, "said Rogelio.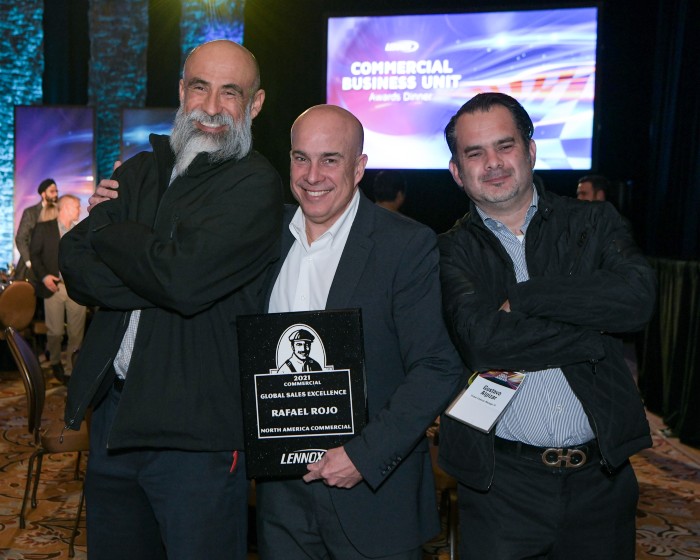 ACR: How was your process of linking to this industry?
Rogelio Guzman: What I liked about the HVAC industry is the ability to contribute equipment that is environmentally friendly. We know that every day climate change is growing and in this industry, being so polluting, we have, and I could say, we must use high-efficiency equipment to support that climate change to be the least possible.
ACR: What are your personal challenges, your fears, and your next goals to meet personally and professionally?
Rogelio: For now my role at Lennox is to provide technical support, training and help distributors in Latin America and the Caribbean to close more national accounts in their countries, being the Lennox commercial teams the most efficient in the market, we can contribute to the issue of energy efficiency and less blow to climate change, however, it is a challenge to change the mentality in Latin America; keep in mind that the equipment is no longer operated in the traditional way and that the technology has already advanced, and it is best to let the equipment operate autonomously, like a state-of-the-art car; although we have the possibility of changing speeds manually, we use it in automatic changes... very similar operate the Lennox equipment type packages of the commercial line.
ACR: What challenges do you face as a professional?
Rogelio: I believe that the tendency should be to raise awareness for the use of new technologies, from collaborators, colleagues and especially to customers, today there are many options that are on the market for a correct application for all types of projects.
ACR: What do you think are the reasons for your recognition in this market and that you have been highlighted in this section of the Professional of the Month?
Rogelio: The concern to promote commercial equipment with energy-saving technologies. Another important point is to teach end users how equipment operates, how best to control/manage it, and why they have to let teams operate autonomously.
Some colleagues in the industry continue to offer equipment of standard efficiencies, where the energy savings are not so much, but they make more sales volume, as long as this happens, customers will continue with the idea of "spending less", but they do not think about "investing" to save energy and therefore, less payment of energy bills. To this day, I don't know of a company that says, "I love paying expensive bills for electricity."
ACR: From your point of view, what has been the evolution that the industry has had in your country in the years you have been working in it?
Rogelio: More and more customers are investing in more efficient equipment, however, there is still much to be done. One way to sow that seed is by hiring young staff, who understand technologies and have the concern to learn how they work and what benefits they will have when using these technologies.
ACR: How do you see the future of this in Latin America?
Rogelio: In January 2023 we will have a change in the minimum efficiency that applies to the USA, therefore, it will affect us for all of Latin America. Unfortunately we continue to use many equipment from Asia, where the volume of equipment and price influence more than energy savings.
Business professionals, we have to teach end customers that today, we have many options in efficient equipment for projects in particular, as I mentioned, the use of Asian equipment, by initial cost and sales volume, weigh more than energy savings. In Latin America we continue with the idea of solving many things with "Minisplits", because they are cheap and easy to install.
ACR: Do you remember any anecdote(s) that you want to mention and from which you gained learning for your professional work and personal activity?
Rogelio: On one occasion, a customer in Colombia purchased a 5 tr package unit with heating and dehumidification to maintain a pool on an 11th floor. The space was only 12m2, therefore, it was oversized and more because they installed a heating of 22.5 Kw. The equipment only cooled, which the customer did not want and did not remove moisture. The technician stopped attending, since each lap generated more expenses and left the problem in the hands of the end user. With the ease of technology that our equipment has, with the information of the equipment, I registered it in a software on my computer and with a video call with the end client, we were able to restore the equipment, register the resistance and leave the equipment ready for the control to do the function, just to use the heating and lower the percentage of humidity.
In the same video call, we could see that the technician had not set the thermostat, therefore, the equipment did not receive the correct instruction. The control was configured and the client already saw the benefit of having invested in an efficient equipment and with the necessary requirements for its application.
As notes:
• "Equipment is designed for specific applications, don't try to tailor one by price."
• "Use your useful time on projects that will work, do not use useful time on something useless."
• "10% of the time you will be motivated, the other 90% is called discipline."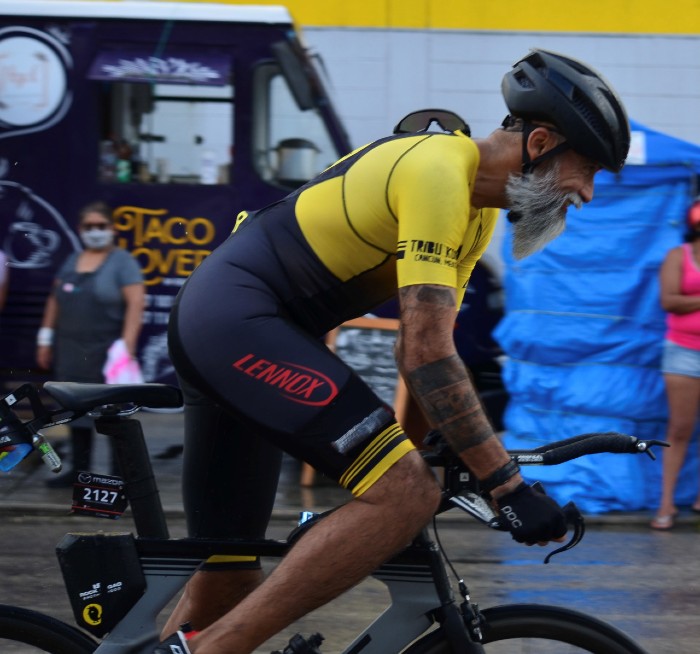 Animals and cycling, their passions
In addition to his passion for engineering and air conditioning, Rogelio has a big heart for animals; together with her partner, Miriam Novelo, with whom she has shared her life for 16 years, she supports dog and cat shelters, rescues them, stabilizes them, sterilizes them and gives them up for adoption.
Another of his great passions is cycling in different specialized, as he has done the mountain, route and triathlon. "I practice mountain biking, although in my place of residence they do not exist as it is an area of limestone rock, but I have had the opportunity to travel to much of Mexico, USA and Canada to practice it. I also practice Road Cycling and Long Distance Triathlon. Last year I participated in the Ironman of Cozumel, I have done 3 Ironman 70.3 (Medium distance) in Mexico, to date I am training for two more Ironman 70.3 and thus conclude the 5 Ironman 70.3 of Mexico plus the full Ironman made last year. To be able to achieve these trainings requires a lot of discipline; I started training from 4.00 a.m. on the weekend and during the week I did training in the morning and at night," said Rogelio.