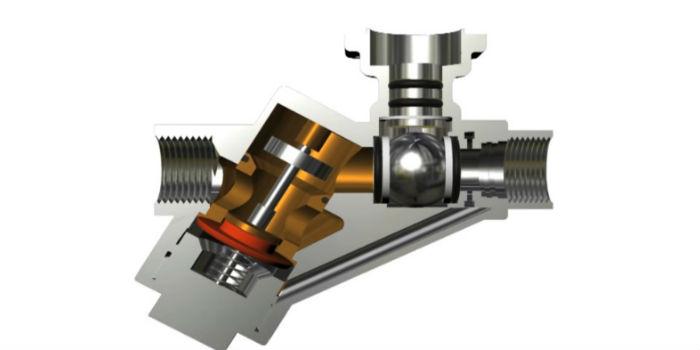 Below are different arguments why it is important to use Independent Pressure Valves.
by Víctor Orozco*
PI technology, such as that incorporated in the Independent Pressure Valve (PICCV or EPIV), combines the function of an automatic balancing valve and a control valve in a single unit. The PICCV valve is designed to maintain a stable flow rate (and therefore a temperature differential) through a coil despite any pressure fluctuations that may occur in a typical system with multiple control valves and interactive circuits.
These types of characteristics support the concept of Dynamic Balancing, especially applied in primary and secondary variable hydronic systems. Dynamic Balancing avoids the need to continuously rebalance the hydronic system, either due to changes and alterations during its design or installation.
Virtually any system with multiple, interactive circuits requires start-up and routine balancing, even those "rigorously" designed. There are two fundamental reasons for this:
- First of all, it is very unusual for mechanical systems to be designed to perfection. Most are designed (or updated) with one or more of the following imperfections: not properly sized coils, oversized pumps, incorrect piping, and the need for perfect authority on control valves. All of these elements produce pressure fluctuations that have an impact on overall performance and efficiency. Therefore, balancing (and rebalancing) is necessary unless PI technology is used.
- Secondly, in a system normal pressure fluctuations occur as a result of constant load changes due to outdoor air temperatures, humidity, building occupancy, etc. While some research has been conducted regarding the feasibility of pressure-dependent systems that do not use balancing, we do not consider this to be a realistic alternative for multi-circuit, interactive buildings.
Regarding the issue of efficiency and savings in water distribution systems, we can point out that for optimal efficiency, the control valves must maintain a consistent delta T along the coil that is at or near the design value, regardless of pressure fluctuations in the system. If the design delta T is 12°, but only a differential of 6° is being reached, then energy (and money) is being wasted.
It is here that pi design achieves savings by only pumping the necessary amount and design through the hydronic system. As independent testing has shown, PI technology maintains the design delta T consistently despite variant conditions due to partial loads and system diversity.
Víctor Orozco is Regional Application Consultant for Latin America at Belimo Americas. You can be contacted via email Victor.Orozco@us.belimo.com