Everything we need to know about this kind of filters for air conditioning.

by Eng. Mauricio Romero Ch.*
What is an air filter? An air filter is a device that removes solid particles from an air stream. In the last two years there has been a lot of interest from some customers to know more about the filtering systems of their air conditioning equipment.
The field of air filtration is quite broad and ranges from basic applications in residential air conditioning equipment to critical applications such as clean rooms, operating rooms or burn areas in a hospital, for example.
As a starting point it is important to review that the air we breathe can be subdivided into dry air, humidity or water vapor and pollutants that are a series of particles and gases generated by nature, man being and industrial processes.
Dry air is composed of nitrogen (N2) with 78% and oxygen (O2) with 21%; these two elements add up to 99% and the remaining 1% is made up of other gases; among them Argon, Neon, Krypton, Helium and Carbon Dioxide.
The moisture content of the air depends largely on the geographical location and in relation to the contaminants we can find dust, fibers, spores, bacteria, viruses, aerosols, pollen, combustion particles and many other things; many of them generated by nature and others by human activity.
If we start from the fact that an air conditioning equipment uses air as a means of energy transfer (air conditioning or heating), we can then say that all these components of the air can be present in the currents of recirculated air or fresh air.
It is very difficult and expensive to remove all these contaminants and the treatment to be implemented will be as required by the specific application. For example, an isolation room in a hospital should have a good barrier to bacteria, viruses or dust; a clean medical device manufacturing room will have limited the amount of particles present of 0.5μm, 1μm and 5μm on the production floor.
Particle sizes
In order to understand the term MERV we first need to familiarize ourselves with the particle sizes that exist:
• Grain of sand: 150-90 μm
• Human hair: 50-70 μm
• Pollen, dust, spores, cement powder (PM-10): 3-10 μm
• Bacteria, industrial dusts, soot, ash (PM-2.5): 1-3 μm
• Viruses, Smoke (STDs), insecticidal powder, paint pigments: 0.3-1 μm
It is increasingly common to see references in international outdoor air quality standards to small particles known as PM-10 (10 μm) and PM-2.5 (2.5 μm), the study and continuous monitoring of these particles has been increasing and has proven to have harmful consequences for human health, hence the importance in issues of air quality we breathe.
For example, clean rooms are classified by the number and size of particles per unit volume of air, for example, the stable ISO 14644-1 standard for a clean room class ISO-7 which the particle control should be:
• 0.5 μm with a concentration not exceeding 352,000 particles/m3
• 1.0 μm with a concentration not exceeding 83,200 particles/m3
• 5.0 μm with a concentration not exceeding 2,930 particles/3


Table 1 Classification of clean rooms according to ISO 14644
ASHRAE Standard 52.2
The technical standard ANSI/ASHRAE 52.2, Method of Testing General Ventilation Air-Cleaning Devices for Removal Efficency by Particle Size is the one that defines the MERV concept and establishes a laboratory test method in relation to the efficiency filtered by particle size; it focuses primarily on the filter's ability to remove these particles from an air stream and their resistance as it is charged.
The main objective of this standard is to be able to standardize and standardize what many manufacturers do in such a way that the efficiency of one filter can be compared against another and its behavior as it is loaded or dirty.
According to the standard, the efficiency of particle filtering is calculated by counting in the laboratory the particles upstream and downstream of the filter for different particle sizes at defined time intervals simulating real behavior.
Establishes criteria for reporting the efficiency of filters through the MERV value.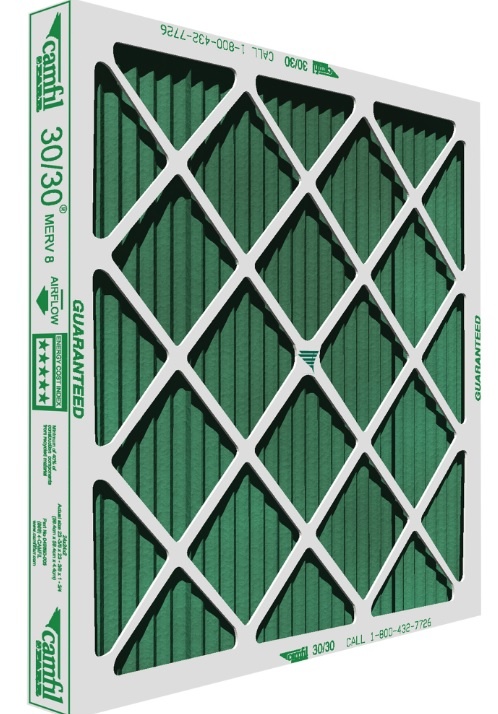 * MERV 8 Filters – Camfill Farr Cortersia
What does MERV mean?
MERV comes from the English term Minimum Efficency Reporting Value. It has a numerical representation that goes on a scale of 1 to 16 that contemplates the measured laboratory results for all tests according to particle sizes. The higher the MERV number, the greater the particle removal efficiency of the filter.
A MERV value is then not a filtering degree for a specific particle size, but is a representation of the degree of efficiency of a filter against different particle sizes according to the standard's test method.
All MERV filters have a legend on the filter protector indicating the manufacturer, dimensions, direction of flow and MERV grade
According to the method a filter goes through performance tests for 12 particle sizes ranging from 0.3μm to 10μm according to ASHRAE 52.2, of these 12 sizes 3 groups are subdivided E1 (from 0.3μm to 1μm), E2 (from 1μm to 3μm) and E3 (from 3μm to 10μm) and after a few averages the MERV value is tabulated as follows.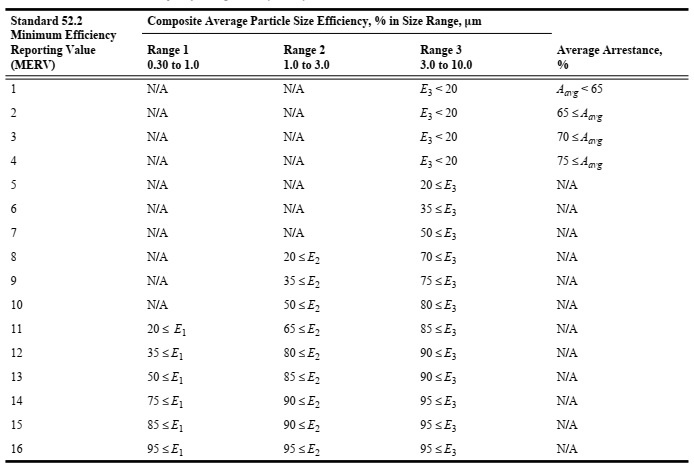 Table 2. MERV Parameters
Typical MERV filter grade applications
ASHRAE 62.1:
• The ANSI/ASHRAE 62.1 Ventilation for Acceptable Indoor Air Quality standard establishes in section 5.19, a MERV grade of 8 as the minimum grade for the filters of the pre-coil air distribution equipment.
LEED BD+C New Construction:
• The LEED Design Guide for New Buildings establishes for the Enhanced Indoor Air Quality strategies for mechanically ventilated spaces the use of MERV filters 13 or greater.
Design Standards of International Hotel Chains:
• Most international hotel chains have design guides and these usually specify at least two important things regarding this topic:
o ASHRAE 62.1 Compliance (latest version)
o Treatment of fresh air with filters normally not less than MERV 11

ASHRAE 170:
• The ANSI/ASHRAE Ventilation of Health Care Facilities standard establishes in Table 7.1 the minimum degree of filtering required according to the space within a Hospital type building.
o Operating Room MERV 16
o MeRV Delivery Room 14
o MERV Procedure Room 14
o Nursing MERV 8

ISO 14644-1:
• To achieve the filtering levels of a clean room, high-efficiency filters are required and are known as HEPA filters or ULPA filters.
• These filters do not follow the MERV rating as they exceed the filtering parameters set out in the ASHRAE 52.2 standard
• MERV filters in clean rooms are used as pre-filters and post-filters in order to extend the service life of HEPA and ULPA filters, which are much more expensive.
o Pre filters MERV 8
o Post filters MERV 13
On the other hand, each application can have a requirement and specification of the degree of filtering, this can respond to a regulatory issue, specification of plans or specific requirements of a client, for example: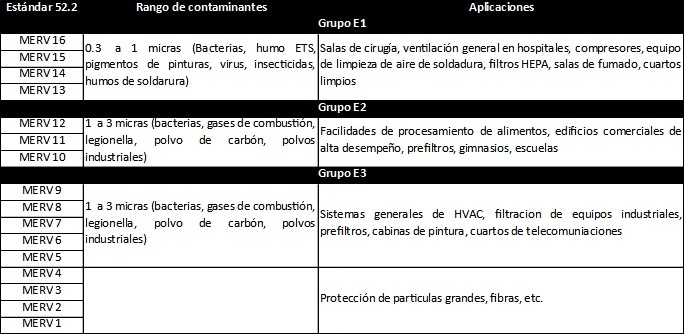 Table 3. Typical MERV Applications
Summary
Filtering then is one of the first and most important stages in the cycle of air treatment in air conditioning systems, from preventing dirt in coils, to retaining particles that can cause short circuits in the process of manufacturing microprocessors or avoid contamination by bacteria during surgery to a patient.
A MERV filtering grade guarantees an efficiency in the retention of particles of a certain size according to the need of the application and the higher the MERV number, the greater the particle removal efficiency of the filter.
A filter that does not have a MERV grade, that is, that is not manufactured following the ASHRAE 52.2 standard cannot be considered equivalent with another filter that is MERV grade.
In short, there is a difference in the cost of a filter with MERV grade to one that does not have it, but in many cases a replacement is not possible and from the point of view of professional responsibility varying these requirements to reduce installation or maintenance costs can involve legal situations, compromise production and can even threaten human life depending on the application.
Proper filtration is the first step to good indoor air quality.

Footer:
1. MERV: Minimum Efficency Reporting Value
2. ETS – Environmental Tobbaco Smoke
3. PM - Particle Matter: Acronym to determine sizes of particles suspended in the air.
4.ISO: International Organization for Standardization
5. ANSI: American National Standards Institute
ASHRAE American Society of Heating, Refrigerating and Air-Conditioning Engineers.
6. ANSI/ASHRAE 52.2, Method of Testing General Ventilation Air-Cleaning Devices for Removal Efficiency by Particle Size. Table 12.1 p. 29, 2017.
References:
- American Society of Heating, Refrigerating and Air-Conditioning Engineers (2017). ANSI/ASHRAE 52.2, Method of Testing General Ventilation Air-Cleaning Devices for Removal Efficiency by Particle Size
- American Society of Heating, Refrigerating and Air-Conditioning Engineers (2020). HVAC Systems and Equipment Handbook.
- Gutierrez Saxe, Juan José (2007). Air Conditioning Training for Hospitals and Data Centers. CITEC - ACIMA.
- United State Green Building Council. LEED BD+C New Construction Reference Guide. Minimum
Minimum indoor air quality performance | U.S. Green Building Council (usgbc.org)
- United States Environmental Protection Agency. Particle Matter (PM 2.5) Trends.
Particulate Matter (PM2.5) Trends | US EPA
- United States Environmental Protection Agency. Particle Matter (PM 10) Trends.
Particulate Matter (PM10) Trends | US EPA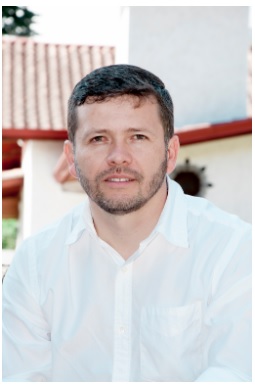 * Eng. Mauricio Romero Ch.
Director of Mechanical Engineering – Sinergia Ingeniería (Costa Rica)
Health Facility Design Professional (HFDP), by ASHRAE
Professional in Building Commissioning (BCxP), by ASHRAE
Accredited Tier Standards Designer (ATD), by Uptime Institute
LEED Accredited Professional (LEED BD+C), by USGBC