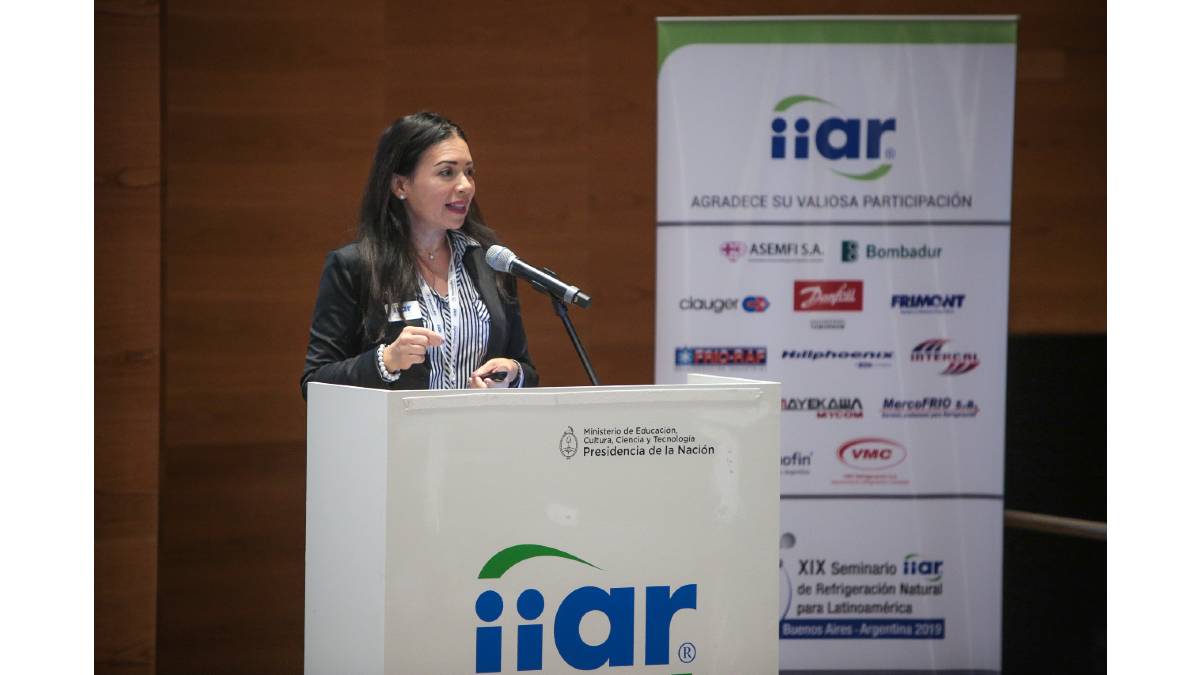 We highlight the work of another great professional woman in the industry. She is Yesenia Rector, International Director of IIAR.
By ACR Latin America
Yesenia Rector is the current International Director of IIAR (International Institute of Ammonia Refrigeration) and those who know her witness her good energy and charisma, very important aspects that allow her to perform her professional skills in a better way.
Trajectory
Yesenia was born in Puerto Rico and studied at Colegio Nuestra Señora de La Piedad; his university studies were done at the University of Puerto Rico (UPR), at the Mayagüez University Campus (RUM). His undergraduate studies were with a concentration in Molecular Biology and a second concentration in Chemistry. Shortly after graduating from rum, he moved in 2001 to the U.S. state of North Carolina after receiving a job offer at the pharmaceutical company Baxter to work there as an Analytical Chemist.
That is to say that before arriving at his current position, he had a very important tour of the pharmaceutical industry, then for occupational health and later he was linked to the refrigeration sector. "After working for 4 years in the area of pharmaceutical and medicinal chemical development with Baxter Healthcare, I received a job offer with the Occupational Safety and Health Administration (OSHA) in the state of North Carolina. So I started in the area of occupational safety in 2005, performing workplace inspections with chemical processes to ensure the health of workers," said our guest.
At OSHA, its role was to conduct air pollution analysis in various workplaces to determine hazards of workers' exposure to hazardous substances. "This is where I started my experience with PSM (Process Safety Management) and how to ensure that chemical processes, (including ammonia cooling) were safe and efficient," Yesenia said.
In 2010 our Professional decided to evolve from 'regulator' to 'user'; and began working with the largest cold store company in the United States: Americold LLC. The company has about 150 cold stores in the U.S. and most use ammonia as a refrigerant. "In the next 8 years I worked as Regional Manager of Refrigeration Process Safety, and developed training and corporate programs with the purpose of having safe and efficient ammonia refrigeration systems," he added.
During this time, our guest was part of the IIAR as a volunteer member of the standards committee developing the ANSI/IIAR 9 standard regarding the Safety of Existing Ammonia Closed Loop Refrigeration Systems. In 2018, after having worked for 8 years in the ammonia refrigeration industry, she holds the position as International Director of IIAR.
"Currently, as International Director of IIAR, I develop training material in English and Spanish on the safe and efficient operation of ammonia refrigeration systems; direct and perform translations into other languages of the IIAR Standards and other technical materials; facilitate the adoption of standards such as national standards at the international level; and I direct all IIAR International programs."
ACR: What are your personal challenges, your fears, and your next goals to meet?
Yesenia Rector: I think it is very important today to make sure that we leave a legacy of cooperation, prosperity, health and peace to our children. With today's global socio-economic challenges, it is more important than ever to work for a better world.
Personally, having two brilliant daughters, my biggest goal is to give them an example to emulate; a guide to follow so that they become prosperous and happy human beings. My goals are daily goals; because I firmly believe that day by day we build a long future. I think that the professional and the personal are simply parts of the same whole. Both professionally and personally my greatest satisfaction is teaching; stimulating cooperation and communication. That's why I love deeply what I do, at home and in the office... My goal is to continue to give my best with what is given to me.
ACR: What challenges do you face as a professional?
Yesenia: I think the professional challenges I face are very similar to what we all face today in our industry. The world is changing; and it is our responsibility to provide sustainable and safe alternatives for the benefit of both the refrigeration and air conditioning industry and for the benefit of professionals in the field.
Considering this, I think it's more important than ever to make sure that the personnel working with the refrigeration and HVAC systems are trained. For this, it is imperative that we have scope and knowledge of the best and accepted practices in the industry; as these practices should be the basis of any training program. This is what moves me every day to share what I have learned in the industry.
ACR: What do you think are the reasons for your recognition in this market?
Yesenia: I have been extremely fortunate to now be in a position that allows me to share the resources at my disposal with many professionals in the industry. I think this has given me more visibility, especially in our sister countries in Latin America. It is an honor to have been nominated for this recognition; and I am determined to continue to contribute what I have been given for the good of the industry, our countries, and the environment.
ACR: What has been the evolution that the industry has had in the years you have been working in it?
Yesenia: Although my homeland is Puerto Rico, I have lived in the United States of America for over 19 years, and it is here that I have had my experience in the refrigeration industry. It is very interesting to see the evolution of this industry, especially considering the structured system that has existed in this country regarding regulations, safety requirements and standards.
Since my time as an OSHA inspector, IIAR has been the organization that sets standards for the refrigeration industry with natural refrigerants. Today, even though unfortunately, the federal administration in the U.S. has not recognized climate agreements that affect us all, many of the states in the United States have formed the U.S. Climate Alliance. This Alliance comprises 25 states that have committed to implementing policies that promote the goals of the Paris Agreement, with the goal of reducing greenhouse gas emissions by at least 26-28 percent below 2005 levels by 2025.
This has created a boom and development of technologies that stimulate the use of natural refrigerants in the refrigeration and HVAC industry. Today, there are several university campuses, hospitals and airports – both in Europe and in the United States of America – where ammonia, (for example) is used for air conditioning.
ACR: How do you see the future of this industry in Latin America?
Yesenia: I see an encouragingly growing industry in Latin America. I think the technological applications and the possibilities for expansion are innumerable. However, all progress depends on keeping an open mind, and cooperation among professionals. As long as we continue to connect, sharing information and security standards that benefit us all, I believe there is no limit to our progress.
Enjoy nature
Living in an area surrounded by mountains in North Carolina is a privilege for Yesenia, who has been home for 19 years and now has two daughters (ages 12 and 17) who "are the light of my eyes and reason for deep pride." This beautiful family is also made up of two dogs named Athena and Apollo from a breed of guardians that Yesenia loves: Mountain Dog of the Pyrenees, in English: the "Great Pyrenees".
With all his family he enjoys the area where he lives: "the part of Appalach that corresponds to the "Blue Ridge Mountains" or the Blue Summit Mountains. Therefore, my favorite hobby is walking or hiking with my family and pets in the mountains enjoying nature and the rivers, waterfalls and streams. To me that's therapy for body and soul!"