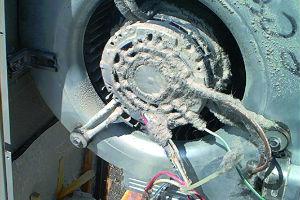 The cleaning of the split and minisplit systems is vital for the equipment to operate correctly throughout the lifetime for which it was designed. by Jorge Gaitán*
 
The accumulation of contaminants and poor maintenance are the two main causes of inefficiency and failures of HVAC systems. Allowing dust to accumulate in coils and filters and delay in performing permanent maintenance can lead to higher prices on energy bills and service costs, accompanied by deterioration of buildings' internal air quality. To protect performance, split system components must be maintained twice a year. Below is a checklist for maintenance. Cleaning
Remove dust and dirt from the evaporator and condenser coils. A dirty coil reduces the equipment's ability to cool your building and causes the system to operate longer and this causes an increase in energy costs. External coils: Turn off the power supply of the unit. Remove all debris in the area and wash the coil with a hose. If the coil has a screen, wiring or blind and debris cannot be removed with the use of water, the top of the unit should be removed or the blind panels should be opened or removed. Ventilation components: They must be cleaned regularly and adjusted in such a way as to preserve proper airflow to achieve comfort and energy efficiency.  Problems with airflow can reduce the efficiency of the system by up to about 15%. Air filters: They should be checked once a month during the operating season and should be cleaned or replaced when necessary. Dirt filters can damage equipment and cause increased operation, which requires higher energy expenditure, and this can reduce the life of the equipment. Check the condensate drain lines and drain trays and perform the respective cleaning, if necessary. A clogged drain can cause high humidity and can lead to leakage and water damage. The heat exchangers, the furnace burner assembly and the ignition system should be checked, and the necessary cleaning should be carried out.
 
---
Verification
- Check thermostat settings to make sure the cooling system turns on or off at programmed temperatures. Check the power cycle of the equipment to ensure that the system power on is properly turned on or off. - Adjust the refrigerant charge if necessary. An inappropriate load causes the system to operate in a forced manner and use more energy; it also reduces the useful life of the equipment. Adjust electrical connections and measure the current consumption of all motors. - Check damage or wear of the entire control box, including contactors, relays, circuit boards, capacitors and other accessories. - Ducts should be checked to rule out leaks. - Check for possible damage, friction noise or vibration of the fan motor and blades. Visually check connection lines and coolant coils or leaks. - Make sure that the extraction system is properly connected to the furnace and make the necessary repairs to the damaged parts. - Check the heat exchanger to rule out any signs of corrosion. Replace it if necessary. Treatment
Adjust the ventilation speed for cooling. Measure pressure drops on the coil to determine the correct PCM (cubic feet per minute) of the ventilation, as set out in the unit's maintenance manual. In the ventilation of the transmission mechanism, check for any possible wear of belts and replace them annually or when necessary, and adjust the tension. If the unit is an older model that has no pre-lubrication or sealing, you must ensure that all moving parts are fully lubricated. Otherwise, friction can increase energy expenditure. While the system is in operation, its ignition should be monitored and the possible presence of abnormal noises or odors should be heard. Measure the external temperature of dry bulb and the internal temperature of dry and wet bulb throughout the coil. *Lennox Industries