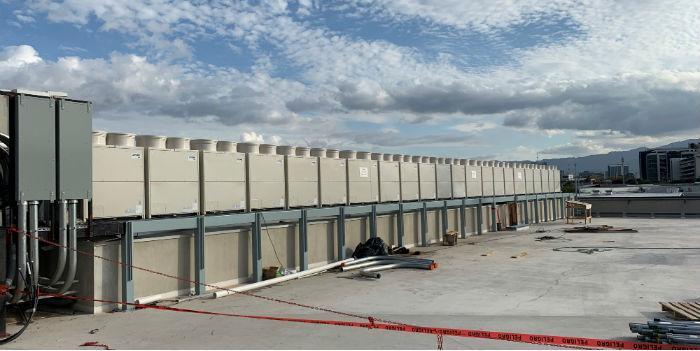 Let's know this Success Story of air conditioning systems for a project carried out in Costa Rica.
by ACR Latin America
MultiFrio recently carried out an interesting project in Building B10 in Zona Franca Del Este in Costa Rica, which benefited 600 people who occupy 5 floors of the property.
The final customer of this project was BAC Credomatic which again used the services of the installation company. "BAC San José Zona Franca del Este is no exception, with great commitment the challenge was accepted; the project is developed for the construction company Volio y Trejos which established delivery times and development of quite tight stages, so it is classified as a difficult project, it had to be completed in approximately 13 weeks, coordination and teamwork were key, it begins in December 2018 and ends in March 19 "said Salo ponchner, Managing Director of Multifrio.
BAC San José Zona Franca del Este is a building that works 100% 24 hours a day, three shifts a day 600 people in total in its Call Center.
Salo also explains that for this specific project equipment was imported from Mexico, Chile, Japan. The arrival and delivery times of the equipment had to be programmed and coordinated very well and carefully, in order to meet the weekly goals imposed by the client.
Project Highlights
The CEO of Multifrio highlighted some of the reasons why this project makes a difference and that makes it important to present itself as a Success Story.
1- It was carried out in record time 13 weeks of execution
2- Equipment was placed 40 meters high with a crane, so the work had to be done in a single day. Coordination was essential since one of the main access roads to the project had to be closed, and the vehicular flow of nearby areas had to be controlled.
3- The communication between the different departments of MultiFrio involved in the project made the difference, from the logistics department with the coordination and import of the equipment, pipeline factory, contractors in charge of the company. Only in this way was it possible to comply with the stipulated times for the correct progress of the work. Coordination with the General Contractor and other contractors involved in the project was also important.
4- The camaraderie, camaraderie and good relationship between the other supplier companies contributed to none falling behind with the work and goals set, the moments and work schedules of each team were coordinated to avoid interruptions and setbacks that could affect.
5- Internally, the MultiFrio project was in first place in the competitions carried out by the construction company in both waste management and occupational health.
6- Simultaneous maritime and air imports were made from Japan, Mexico and Chile to achieve installation and commissioning on time.
Project description
Intervened space: Building B10 in Zona Franca del Este
General Contractor: Constructora Volio & Trejos
End customer: BAC Credomatic
Multifrio Project Manager: Juan Carlos Fernández
Multifrio Master Supervisor: Alberto Salas
Multifrio Master Builder: Franklin Solano
Technologies used:
- VRF York / Hitachi Air Conditioning Equipment, Bathroom Extraction Equipment, Energy Recuperators, Enthalpy Wheel, Mushroom Type Extractors.
- 5-story building
- 142 fresh air extractors
- Air Conditioning: 80 evaporators 22 condensers
- Tons of Refrigeration: 300 TR
Project Details:
- People: 600
- Application: Call Center and other administrative positions
- 5 floors