Latin America. With the in-person and virtual participation of numerous interested people, the launch of the NATE Certification for the countries of the region took place in Medellín, Colombia.
North American Technician Excellence (NATE) is an evaluation standard in the area of air conditioning. The certification was established in 1997 in the United States and since then it validates the knowledge of the technical and operational staff of the HVACR union, guaranteeing the application of good practices in the exercise of their work.
"This certification is different from others available in the region, because it has been created by technicians for technicians and also has a record that allows validating that a person did meet certain requirements and that they do have a license approved by an institution in the United States", highlighted Miguel Hurtado, Business Development Manager of NATE.
For his part, Andrés Felipe Trujillo, who serves as general director of the Academia de Fundamentos Técnicos (AFT), referred to the public's receptivity to the initiative and stated that the launch is just the beginning of a large-scale project, related to the development of certifications in Latin America.
"Our institution has been approved by NATE as the provider to carry out the entire preparation, counseling and certification process throughout the region. We are very proud to offer you this opportunity to raise your knowledge, improve your technical profile, improve your performance in the field and increase your finances for a better future", he stated.
During the launch event, participants also had the opportunity to hear testimonies such as that of Julián Sánchez, who already has the NATE certification and described his experience as very rewarding.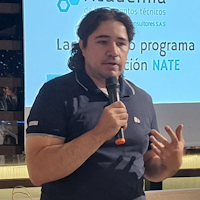 "Technology and the economy evolve very quickly and that means keeping up, because if you stay with the basics, you cannot advance or show your potential. Therefore, these initiatives allow you to update yourself and have the best elements of judgment at hand time to serve a client or a productive process", he said.
Registration discount
Until midnight (Colombia time) this Wednesday, November 1, a 10% discount will be available on the value of the NATE certification package, taught by AFT. The institution enabled the email [email protected], as well as the numbers +57 310 4714929 and + 57 310 545523 to answer questions and concerns.