Mexico. With a dinner held at its facilities, the company Proveedora de Climas recently celebrated its 45th anniversary, one of the most recognized distributors in the Mexican market.
The entire team of the company was part of the celebration of a company that was born in 1978 in the city of Monterrey and that today has offices in Querétaro, Saltillo, Guadalajara and Mexico City.
The specialist firm currently has more than 100 employees and serves three market segments: residential and light commercial, projects and institutional sales, distributors and contractors.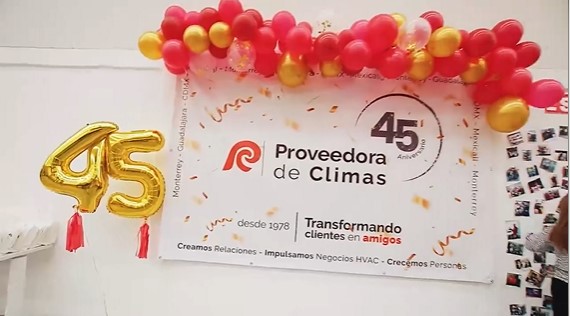 In addition, they participate in all types of projects, residential, office buildings, distribution centers, warehouses, shopping centers, warehouses and industrial plants, clinics, hotels, pharmacy chains, banks, among others, and are identified as the number 1 distributor of Trane in Mexico.
Additionally, Proveedora de Climas works in the distribution of equipment from brands such as Liebert: conditioning systems and support of critical processes. Greenheck: Ventilation systems. GPS: to improve indoor air quality. Berner: Air curtains. Honeywell Home: control and security.
Marcelo González is the current CEO of the company, a position he has held since 1999.