United States. As part of this year's AHR Expo, which was held in Atlanta, Price Industries extended an invitation to its partners and customers to tour its factory located in Suwannee. Here we tell you the details of this tour.
For this 2023 there was the presence of visitors from almost all Latin American countries, who were able to appreciate the technology and organization of the Price plant. During the tour, they were taught the different steps in the manufacture of some elements, so this was a space to appreciate the capacity and level of production in that building. As well as the innovative robotics processes used in some production lines, and even the previous step to the dispatch process.
According to Price Industries "in one part of the tour the guests went to the laboratory area and managed to notice that Price not only uses technology for production, but is also used to perform different types of tests and that together with the right professional team raise the brand to superlative levels, being able to emulate in a very accurate and accurate way any situation, either in terms of noise emission measurement or thermal behavior of flows".
In this sense, it should be noted that Price has the ability to thoroughly analyze the behavior of its products, since they use the technology and advances available, complementing them with all the appropriate measurement elements, to demonstrate that the data delivered in the values of their catalogs are the result of the different tests and demands to which their products are subjected.
To conclude the tour, visitors were taken to the showroom, where they received a talk from the brand's specialists.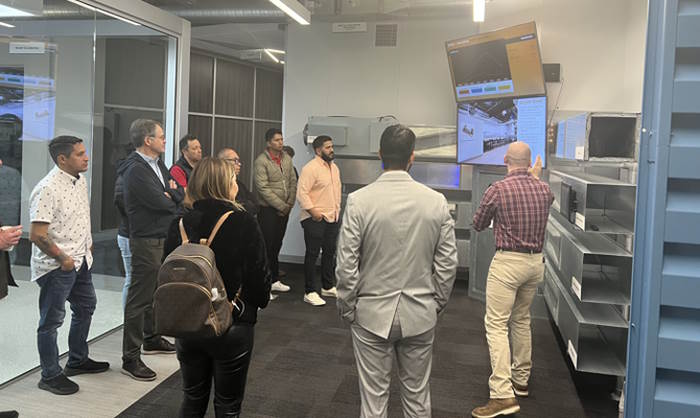 Price also made slightly more conventional demonstrations, through novel tests of airflow behavior, and using white smoke with the same air density, to see the actual movement of air. In addition to the homogeneity of air outlet of diffusers and the final reach that they have inside a room.
"Different noise attenuation alternatives, variable airflow solutions, samples of typical products, cold beams and products for critical environments were also reviewed, in which it is very important to emphasize the novelty such as the Ultrasuite, which is a modular solution for surgical pavilions that clearly reduces installation time and includes lamps inside the diffusers that also considerably reduce the emission of shadows. "
To conclude, he emphasizes that Price is one of the companies that most urges its customers to make visits to their factories, because they want everyone to be part of their great family. In addition, the brand extended the invitation to learn more about this type of conference and to become familiar with its products, due to the engineering that supports them.