Brazil. Globus Electronics, a company that exports controllers and electronic devices globally, is celebrating its first 25 years in the market, where it has positioned itself as a benchmark for intelligent solutions in refrigeration and HVAC, for the B2B market aimed at large vehicles.
Globus was founded on January 5, 1998, by engineer Gilberto Rossato Medeiros and administrator Luiza Machry Koch, who serve as CEO and industrial director in the company respectively. Some time later the engineer Maurício Zanette joined this team, who was invited to join the company and today holds the position of engineering director.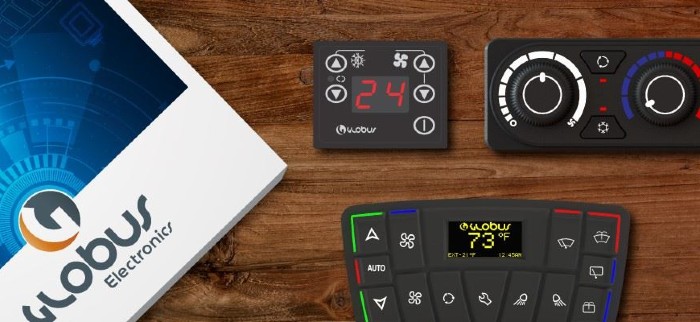 This company located in Porto Alegre, in the Rio Grande do Sul area, has focused its efforts on the development of automotive and industrial technology. To understand the commercial impact that Globus has, it is necessary to mention that it is present in more than 40 countries, where it offers intelligent control solutions that are used in applications for commercial vehicles, aircraft, boats, vans, buses, trucks, mobile homes, trains, ambulances, rescue vehicles, agricultural and construction machinery.
Added value
Globus acts as an OEM (original equipment manufacturer) supplier, according to a company publication, it focuses on developing and customizing products according to customer specifications, offering convenient state-of-the-art products to maximize user comfort and add value to products.
"We also offer a wide range of standard products, with different specifications, to meet the diverse needs of the electronic controls market, with modern and convenient designs, manufactured with the best raw materials and complying with all international electronic standards."
In the context of the celebration, Gilberto Medeiros commented: "Globus was born from the will to go further, to innovate, to overcome geographical barriers, to globalize. We have always focused on meeting the needs of our customers with quality. Our goal is to offer electronic solutions that add value to our customers' products and services."
For her part, Luiza Koch, stressed the importance of the people who are part of her organization. "We started with a small group of 6 people and today we have approximately 100 employees. And we have come this far thanks to these and so many other people who have passed through Globus, who have built this story with us. Our greatest commitment is to people. Whenever possible, we try to value, develop and recognize our employees. No wonder we have people who have been with us for 25 years."
Finally, according to Maurício Zanette, being able to be innovative is vital for the business, so the engineering team he leads is constantly in search of new technologies, in addition to participating in international fairs and events. "We are a company that uses technology to improve our lives and that of our customers. And today Globus is a reference in technological solutions in the markets where we operate."