United States. The first edition of the Clima Latino 2022 Contest, organized by ACR Latinoamerica, which rewards the best HVAC/R project in the region, ended successfully within the framework of Refriaméricas Miami, where the award was given to the company Refrigeracion y Soluciones de Frio, for its Stratum Coca-Cola project, carried out in Liberia, Guanacaste, Costa Rica.
The CEO of the company, Lisandro Salas, received this recognition in a contest that also had the participation of three more finalist companies, which were also present at Refriaméricas announcing all the details of the project in a panel held within the congress program. David Osma, from Weston, Amilcar Castillo, from Compañía Climatizadora and Paulo Henrique Santos, from Thermique, completed the group of participants in the final phase.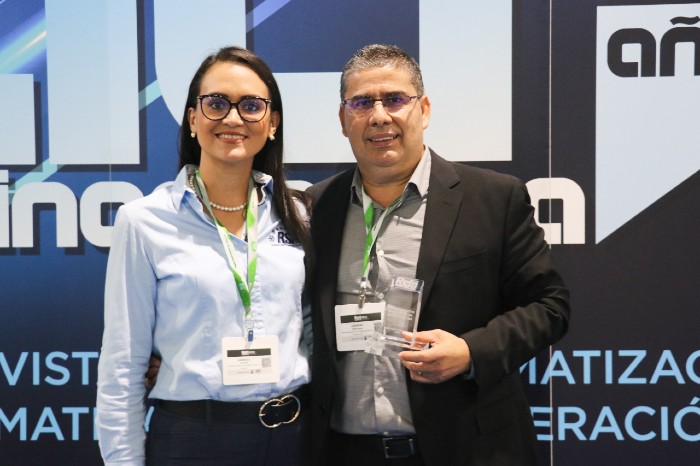 Lisandro Salas, CEO of Refrigeracion y Soluciones de Frio, received the award in the company of his wife, Gabriela Sánchez, administrative manager of the company.


"I am happy to have received recognition for this project, which for us has been very important for its high level and excellent results. I also want to congratulate the other finalists and we hope to participate again next year," said Lisando Salas.
The Stratum Coca Cola project plant, at the refrigeration level, has an installed capacity of 750 TR (9,000,000.00 btu/hr) for air conditioning and plant air conditioning, 150.0 TR (1,800,000.00 btu/hr) in cold water systems for process and 208.0 TR (2,496,000.00 btu/hr) in refrigerated and frozen storage systems. One of the most important conditions was to make a project energy efficient and environmentally friendly and although the project was originally designed with ammonia, the power required and the volume of refrigerant in the system made the application of this natural refrigerant doubtful. The goal was to achieve a more efficient system, minimize the volume of refrigerant and develop an environmentally friendly project.
The winner of the contest was made through an open vote in which our readers and attendees of Refriaméricas chose the project they considered to be the best among the participants. In the end, the Stratum Coca-Cola project won with 39.71% of the total vote.
The other three participating finalists were as follows:
* Project: Retrofit Éxito Quinta Camacho
Contractor – Installer: Weston SAS
City where the installation was carried out: Bogotá, Colombia
Project execution date: November, 2021
* Project: Panama Canal Museum
Contractor – Installer: Compañía Climatizadora S.A.
City where the installation was carried out: Panama
Project execution date: April, 2021
* Project: Ice Water Plant in Schattdecor
Contractor – Installer: Thermique Projetos
City where the installation was carried out: Curitiba, Brazil
Project execution date: February, 2019
To learn more about the projects click here.