United States. On the evening of May 22, 1922, Willis Haviland Carrier invited 300 people to a sheet metal workshop in Newark, New Jersey, for a free meal and boxing match followed by the introduction of the first centrifugal chiller technology. Today, Carrier celebrates the centenary of the invention of the centrifugal cooling machine that, in many ways, made the modern world possible.
"Carrier's revolutionary invention opened the door to large-scale comfort air conditioning while improving the efficiency of the cooling process," said Gaurang Pandya, President of Commercial HVAC at Carrier. "Every day we build on that legacy, innovate with the purpose of creating what's next, staying ahead of changing requirements, unleashing the power of digital technology, operating smarter with IoT, and helping customers implement business HVAC solutions closely aligned with their business goals."
Carrier's conception of combining a centrifugal refrigeration compressor with a housing, a new type of condenser and a cooler in a single frame improved process cooling in factories around the world. Following the first installation of three centrifugal coolers in a Philadelphia chocolate factory in 1923, Carrier's innovation soon provided process cooling to rayon manufacturers in India and cracker factories in Mexico.
In 1924, Carrier realized its dream of comfort cooling when detroit department store owners added centrifugal coolers. Centrifugal technology reliably and economically supplied comfort air to the public in theaters, shops, restaurants, sports facilities, ships, hospitals, and office buildings.
A decade later, centrifugal cooling had brought process air to more than 200 industries. Food and beverage production became safer, hospitals were more comfortable and hygienic, and new life-saving drugs such as penicillin became possible.
By providing accurate temperature and humidity, centrifugal chiller technology has supported the infrastructure of the modern digital age, including electronics of all kinds, semiconductor chips, data centers, and robotics. These new inventions and new technologies could not have existed without Willis Carrier.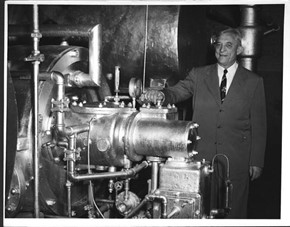 While the fundamental physics of centrifugal technology hasn't changed in a century, Carrier engineers have never stopped pushing new advances in centrifugal chiller technology. Today, Carrier's AquaEdge® 19DV water-cooled chiller delivers energy efficiency with its unique free heating and cooling options that increase the system's total energy savings by using refrigerant with ultra-low global warming potential.
The AquaEdge 19MV offers a wide operating range in a very small machine size to replace older coolers. Both machines feature the unique EquiDrive™ two-stage compressor technology to drastically reduce energy consumption.
To learn more about the history of the centrifugal cooler, visit carrier.com/100.