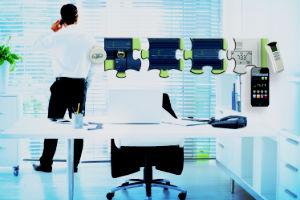 Automated systems continue to evolve and develop new alternatives. This is the case of a new technology designed for the control of multiple functions in the rooms of commercial buildings.
by Distech Controls*
The main objectives of designing automation and energy management systems are to optimize operational and energy savings, while ensuring the highest levels of comfort for occupants.
Facility managers and building owners recognize the benefits of automated HVAC and lighting system control to achieve these goals. However, independent control of the HVAC system and lighting can pose several challenges, from designing and installing the system, to achieving desired energy and cost savings. Additionally, facility managers are often faced with the dilemma of achieving energy savings or occupant comfort.
Management of HVAC equipment, lighting and blinds inside commercial buildings: let's think of any office where we could find the following:
- Terminal units of HVAC equipment such as VAV box (variable air volume), fan radiator, cold beams, etc.
- Enhancement lighting fixtures, for workstations and general lighting.
- Natural light sources such as windows, atriums, etc.
- Venetian blinds, interior or exterior.
- Room devices, such as discrete sensors for temperature monitoring.
- Other room devices, for co2 and humidity monitoring.
- Light switches, light graders or occupancy sensors.
- Blind control switches.
In such an office, all aspects of the functions of the room are controlled separately: the HVAC system, the lighting and the blinds. Occupants must employ at least three devices to adjust settings to their comfort. In addition, by treating each function as a separate system, the space is not optimized either for cost and energy savings, or to take advantage of the possible synergies between the control systems of HVAC equipment, lighting and blinds.
The systems work separately, thus achieving, perhaps, energy savings as a subsystem, but not as the sum of all systems. For example, lighting fixtures could all be on, even if there was enough natural lighting in the space.
Managing the control of HVAC equipment, lighting and blinds as separate room systems or functions often results in problems such as the following:
Duplication of room control and devices: In the office example above, the occupant must employ at least three room devices to adjust temperature, lights, and blinds. It is possible that in the room there are also two occupancy sensors, one for HVAC and one for lighting control, etc.

Cross-linking of control strategies: A separate control sequence may be created, based on pre-programming, for the HVAC system, lighting, and possibly for blinds, and each of these sequences may be different from each other.

Waste of energy and waste of opportunities for energy saving: the use of artificial lighting when there is enough natural light or when rooms are not occupied, or the increase of air conditioning when the blinds could be closed to increase the thermal insulation of the windows and minimize the absorption of solar heat. For example, meeting rooms with an occupancy sensor for lighting and a CO2 sensor for HVAC equipment control, when the combination of data from both sensors would allow ventilation on demand depending on occupancy and the number of people in the room.

Problems related to the comfort of the occupants: again, in the example of the office, the occupant must employ at least three room devices to adjust the temperature, lights and blinds. Usually, the occupant makes adjustments to solve only what causes irritation on a specific day. This could, in fact, go against the control sequences associated with the other systems or functions of the room. For example, increasing artificial lighting levels when there is enough natural light if the blinds are raised.
Integrated room control solution
An integrated room control solution, such as that of Distech Controls, is designed to address these common problems, simplifying the design, installation and reliability of control components and sequences, and to take advantage of the synergies that result from treating all room functions as one.
An integrated room control solution is a modular system, based on an expanded HVAC controller for terminal equipment applications with built-in functions and computing for lighting and blind control, which is combined with lighting control modules and blinds and sensors to monitor the light level, occupancy, temperature, humidity and CO2 within the space.
Additionally, different room devices are designed for occupants, from a remote control to a mobile app, to provide a single, easy-to-use interface for adjusting settings to personal comfort.
This solution provides the highest level of comfort to occupants, while increasing operational cost savings in room applications or commercial building premises. The energy savings are of such magnitude that a study by the Hannover University of Applied Sciences and Arts (Germany) showed savings above 30% in the HVAC system and up to 60% in lighting.
Optimal performance
With regard to the problem of duplication of control and room devices, the use of an integrated strategy allows information on occupancy, brightness and other sensors to be shared between the three functions, promoting optimal performance with the installation and configuration of a single sensor.
Cross-linking control strategies, due to separate systems and functions, often results in energy-saving opportunities being missed. An integrated room control solution is designed for optimal energy savings, which are only possible with a synergistic approach, such as occupancy-based control strategies, leveraging daylight through light level sensors, and optimizing natural light. As seen in the example above, if the natural light coming in through an office window reaches a predetermined level, the lighting devices will balance the light level by graduating or even turning off the room light.
Finally, an integrated room control solution solves the common problem of comfort and personal control by allowing occupants to adjust room temperature, lighting, and blind settings to achieve a personalized comfort level.
Since control of these functions is now integrated, the occupant will usually have to use only one room device to control their environment, and shared sensor data, along with synergistic control sequences will provide a dynamic treatment of occupant behavior.
For example, if an occupant has a glow on their screen and lowers the blinds, the sensor will automatically detect the decrease in light level and increase the lighting coming from the devices. In fact, Distech Controls proposes room devices and the convenience of a mobile application that addresses the requirements of LEED® credit 6.2: Systems Control Capability—Thermal Comfort.
"The integrated room control solution is the best and most economical way to implement energy efficiency, while ensuring the comfort of room occupants," said Etienne Veilleux, President and CEO. "Distech Controls is proud to be able to offer customers this unique solution by adding lighting and blind control to our already robust HVAC offering. Additionally, we are proud to deliver the highest return on energy-efficient systems to our customers and end users around the world."
* To learn more about this solution, please visit www.distech-controls.com/IRC