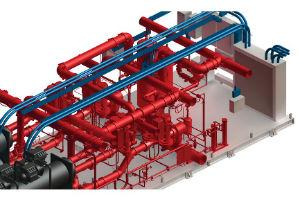 Continuing the previous article on efficient designs for air conditioning, the author now accommodates opinions from his colleagues who suggest other options for central cold water systems of water condensation.
by Alfredo Sotolongo*
The most economical energy to produce is the one that is saved!
In my last opinion piece I shared with you my experiences on the new trends in efficient air conditioning designs. In this issue I would rather like to report opinions that have come to me from different colleagues and let you decide and come to your own conclusions.
In the previous edition I explained that, in central cold water systems condensed by water, the three variables to be controlled were air, water and coolant fluids. Experience confirms that the vast majority of air conditioning systems operate approximately 90% of the time between 40% and 60% of their total capacity.
By modulating the mass of these three fluids through variable frequency drives, the most efficient operation possible is achieved, especially at partial loads, since electricity consumption is reduced exponentially.
Everything that is variable and can be modulated, although it does not modulate the three fluids at once, modulating only one or two of them contributes to energy saving, which is what we pursue with the new trends.
Several colleagues have commented on the application of other types of systems, the following being the most important comments compared to central cold water systems of water condensation:
There are engineers who tell me that they prefer, if the application warrants, to use other types of systems when the total capacity is 100 to 150 tons or less. For larger capacities they prefer to use cold water systems as it allows them to diversify the load more easily and reduce the total capacity.
What they argue to me is that it becomes easier to diversify the load of the central plant the greater the total capacity of the system, minimizing the number of air handlers and getting each one to handle areas with different variable loads during the operation of the system. This allows, in many cases, to lower the total capacity of the system by up to 20%. Which means that a central system where load calculations reflect 400 tons could be satisfied with only 320 tons, representing a lower initial cost to the property.
They have also commented that as the central cold water system is composed of equipment manufactured by different companies, in case you need to change any of them: chillers, cooling towers, water pumps, air handlers, etc ... there are many options. In this way the property has greater flexibility by having access to several manufacturers to be able to choose the one that best suits you either in initial cost, cost in operation or in technical benefits.
Depending on the system to be used, they have mentioned that the capacity of some direct expansion systems is limited and they are forced to use a lot of equipment distributed throughout the building which means a labyrinth of coolant and drainage tubes.
The vast majority of those colleagues who have commented on this are inclined to cold water systems in applications of approximately 150 tons or greater. They consider that the savings in operation that they achieve by integrating the control of the complete plant, the flexibility to replace components with access to different manufacturers and both the backup and the low consumption of operation at partial loads that is achieved with chillers with magnetic bearings and without oil, make these systems the preferred when compared to any other.
The only thing I would like to suggest is that in cases where there is doubt about which system to use, it is advisable to do the following analyses: energy, initial cost and operation cost including maintenance. Since the owner must receive from the consulting engineer all the information available so that between them they can decide which system is best suited, not only from an initial cost point of view but also from a point of view of energy saving and maintenance in the future operation of the system.
If you need more information on any of the topics covered in this column, please contact me at the email [email protected]
* President of Protec, Inc., is certified as a professional engineer in Puerto Rico and the state of Florida; has more than 40 years of experience in the application and sale of systems and equipment for energy conservation. He is a member of ASME (American Society of Mechanical Engineers), AEE (Association of Energy Engineers), ASHRAE and was president of the Miami chapter of that association.