International. Carrier's new solution, the AquaSnap 30RC Air-Cooled Chiller has a compact footprint allowing it to maximize installation area, and uses a low global warming potential (GWP) refrigerant.
Carrier introduced this new solution on January 10, which comes equipped with Greenspeed® intelligence and R-32 refrigerant, which meets the GWP requirements demanded in the United States since 2016, which also helps comply with the ban on 134a refrigerants (among other high GWP HFCs) for use in chillers.
In that sense, the Chiller 30RC offers energy efficiency, quieter operation and a different level design that allows for a wider operating range as well as design flexibility.
Design details
The Chiller 30RC has different levels, so the customer can choose the option that best suits their business and sustainability needs.
However, "the new design of different levels of compact footprint offers a smaller physical size than standard chillers, which allows it to be implemented in small spaces without compromising performance"
On the other hand, optimizations improve integrated part load values (IPLV) up to 18, for a wide variety of uses from 60 tons to 150 tons.
First of all, the manufacturer stressed that for this Chiller the use of the refrigerant R-32 with low global warming potential further reduces the impact on the environment by the use of this device.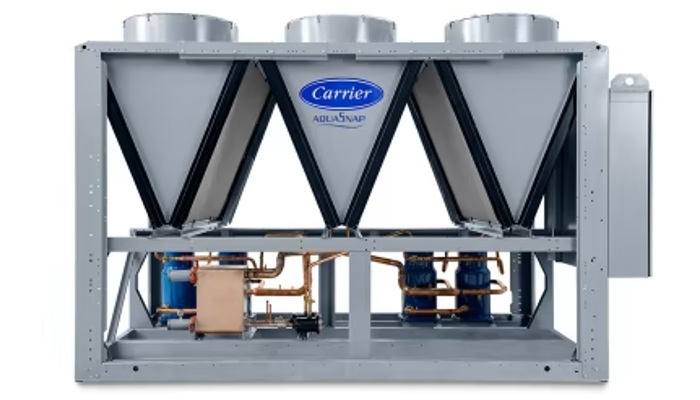 Benefits of this Chiller
Meredith Emmerich, vice president of commercial HVAC for Carrier North America, commented on this new solution:
"With the development of the 30RC air-cooled chiller line, we continue our commitment to provide customers with the latest in low global warming potential refrigerants to meet outstanding 2024 requirements, while improving efficiency and retaining the flexibility and high efficiency we offer with our previous models. This allows customers to reduce energy costs, comply with the latest refrigerant regulations and have access to different coil and evaporator configurations, all in a compact footprint."
Usability of the AquaSnap 30RC
According to Carrier, this Chiller "is ideal for office buildings, schools, data centers, hotels, hospitals and other sites where quieter, high-efficiency operation and a flexible footprint is required." The reason is that this model has variable frequency drives in the fan motors, and advanced PIC6 controls to optimize its performance.
Finally, it's clear that energy-efficient alternatives like the AquaSnap 30RC support Carrier's environmental, social and governance goal of 2030, including helping customers "avoid more than one gigaton of greenhouse gas emissions."