E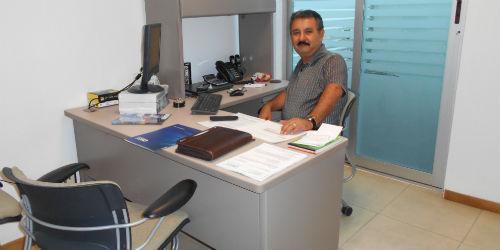 duardo Jiménez Olguín, from the company Calefacción y Ventilación S.A. de C.V. (CYVSA), is the Professional of the Month representing his beloved Mexico. Know your story.
by Duván Chaverra Agudelo
If we talk about loyalty, Eduardo Jiménez Olguín is a clear example of this, this professional born in Mexico on July 27, 1966, has dedicated 32 years of his life to the same company: Calefacción y Ventilación S.A. de C.V. (CYVSA), for which he has worked since 1984.
Refrigeration technician, Bachelor of International Business and with a Master's Degree in Administration and Strategic Management, our guest has gone through several positions in this company, which has allowed him to have different experiences that have nourished him with a wide knowledge about our industry. Eduardo has been Refrigeration Technician (from 1984 to 1985), Works Supervisor (from 1985 to 1996), Works Manager (from 1998 to 2010), Division Manager (from 2010 to date) and currently holds the position of Manager of the Western Division located in the city of Guadalajara in the state of Jalisco.
His father, who was also part of this same company, was his main mentor and who unknowingly was taking his son along the same path he traveled, taking him to know the first work when he was just 8 years old, at which time he began to develop his interest in this profession.
"In these 32 years that I have dedicated myself to the Air Conditioning (AA) industry I have really enjoyed and learned a lot, since I had the opportunity to design and install all kinds of systems, from mini-split units to central ice water systems of more than 3500 TR, where I have used most of the internationally recognized equipment brands, both cooling and air movement and water pumping, "said the Professional of the month.
There are several plans that our guest has to develop in the immediate future, among them he highlighted one in which he has been working two years ago. "I am currently working on consolidating a project that I was planning for almost 2 years to establish this new Western Division of the Cyvsa Group, in which we have just started operations for two months; which implies a great challenge, since this is one of the regions with more development in the field of construction in Mexico and therefore it is very competitive. We hope to succeed in this place and contribute with this in the growth of our company", explained Eduardo.
In addition to this project, Eduardo Jiménez also has other professional goals to achieve, such as teaching: "Regardless of what this project implies, I also have in mind the possibility of looking for an opportunity as a professor at a university where I can occupy my free time to provide teaching about what I have learned and experienced in all these years."
Teamwork
Eduardo is very aware that companies work when teams work, but for this there must be leaders who guide the teams to achieve the same objective, this seems to apply in the strategy of our guest to achieve the goals proposed by the company.
"The challenges are many but they are also opportunities, since I have had the privilege of training my collaborators, (since their entry into the company just out of university) and this has allowed me to integrate a work team with the same vision and commitment, which I hope to be able to transmit to the new elements that are being integrated into this project, where communication, training and leadership play a preponderant role in achieving the objectives we have set," he explained.
The Professional of this edition believes in the formation of teams that mix people of experience with new elements that contribute to the objective: "The work teams must be formed in one part by elements with developed capacities and competences and in another part by new elements that provide dynamism and desires for improvement, which together with an adequate leadership that identifies the strengths and weaknesses of the group and takes advantage of them, can overcome the challenges that arise and position ourselves in this market that is booming and offers many opportunities".
Creativity and design are two fundamental aspects in the strategy of our guest, who considers that this is necessary as a differentiation strategy: "One of the main tools that we will use to achieve our objectives is creativity and innovation, since this industry offers technological advances constantly, which we can take advantage of if we study and apply them in the projects we are developing. In such a competitive market, price should not be the predominant factor; we must give more importance to the product and the benefits it can bring to the customer if we apply it properly. There's always more than one way to do things and since we've always done them, it's not necessarily the best."
Mexico from your perspective
It is always important to know the perspective of our professionals regarding the market they manage best, obviously that of their country. Eduardo shows his optimism with a Mexican market that from his point of view has undergone an interesting transformation that continues to be constant.
In Mexico we have access to state-of-the-art technology and we use it to develop first-class projects, more efficient and functional, without this necessarily implying a higher investment cost. The implementation of new technology in air conditioning systems in the last 30 years has allowed us to be at the forefront in Latin America and this has contributed to generate confidence in foreign and national investors for the development of new projects, both in the tourism industry and in the maquiladora and service industries. "
El Profesional is aware that the business sector of air conditioning and refrigeration in Mexico is very competitive and there is quality, which forces professionals to constantly update themselves on new trends: "Mexican companies offer services according to the needs of any national or foreign investor, we are even providing technology and export products, which is allowing us to have a better positioning internationally and this forces us to be updated in terms of technology and its implementation, as is the case of projects with LEED certification, which have been increasing vertiginously in several cities of the country."
As for the future of the industry, Eduardo is confident in stating that technology has eased the commercial, economic, development constraints, among others, that now allow local competitors to offer the necessary confidence in their services.
"The AA industry has a great opportunity for expansion in Latin America, there are more and more companies that are applying state-of-the-art technology, in addition to customers who demand it, and this coupled with the promotion through exhibitions, conventions and specialized publications such as ACR LATINOAMÉRICA and other media, allow companies to have access to this technology and that the distances that were had with respect to companies from first world countries, have been substantially shortened and that foreign investors trust and use the services of local companies, instead of requesting the services of foreign companies, which generates savings in their investment costs, without this implying any risk".
Your family
Eduardo Jiménez is married, currently living with his wife and the youngest of their three children: "two boys and a beautiful girl". The oldest of them finished his professional studies in Marketing, the second studies a degree in Foreign Languages and Business Management and the third is about to finish high school.
"I like running, playing basketball and I like Pop-Rock music. I'm a football fan (I'm going to Cruz Azul de México) and Baseball. I really enjoy traveling and I have had the opportunity to visit 31 of the 33 states of Mexico, the main cities of the USA, in addition to having been in Puerto Rico Dominican Republic, Panama and Spain. As soon as I have the opportunity I will try to visit South America (Colombia, Peru and Chile, among others)."