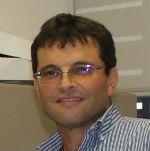 Let's get to know the professional and daily life of Manrique Gutiérrez, professional of the month representing Central America and the Caribbean.
By Duván Chaverra Agudelo
Manrique Gutiérrez has extensive experience in the HVAC/R sector which makes him worthy of being recognized as the Professional of the Month representing Costa Rica. This professional, civil engineer from the University of Costa Rica and mechanical engineer administrator of the Tecnológico de Monterrey in Mexico, began his career working in consulting with Diseños y Proyectos (Dypsa), a company dedicated to architecture and engineering consulting in the construction of buildings and houses.
"My father, Armando Gutierrez, who is an electromechanical engineer, gave me the opportunity to work in his mechanical engineering department and it was where I realized that this part was something that attracted me to work. My father was visited by different suppliers of air conditioning equipment from abroad, mainly from the United States, one of them was Strong International LLC, a company representing foreign houses from the United States, who were located in Coral Gables, Florida. At that time ray Strong, Jorge Hernández who was my mentor there, and the current general manager of Lennox Latin America Victor Mora was also part of that organization," said Manrique.
It was these professionals who gave him entry so that in 1991 he worked in this company as an agent for Costa Rica and later for Central America. "I started working with them from that time and years later, around 1999, Lennox International bought Strong International, or rather their portfolio of clients for which they gradually changed the reason for the business from being representatives from factory to factory directly, " the guest said.
For that reason, Strong International disappeared from the United States and Manrique inherited the name of the company for the Central American region, thanks to the work he had developed for about eight years. Now the company has a presence in Guatemala, Honduras, El Salvador, Nicaragua and they are developing Panama. "The lines with which we worked at that time decided to "risk" with us (by then Ing Orlando Fonseca was already a partner of Strong Internacional Centro América) and thus began our business in the SICA region," said Manrique.
Recognition
Regarding the reasons for its recognition in this market, the Professional of the Month highlighted the following: "We have always been very direct and frank with our customers, presenting them with the appropriate alternatives, charging what the products are worth and giving a quality service, both on the human side and on the technical side. What happens deep down is that we like and are passionate about what we do, so we always try to be one step ahead. In addition, we like to approach everything in a positive way, we want to see the good part of things and take advantage of the opportunities that all this generates, always see the opportunity that is generated with each variable where we are".
And like any recognized professional, Manrique also has goals to meet, both professionally and personally. He dreams of having a much more balanced company, which is positioned in each country where it is present and has its autonomy. Personally, he wants to dedicate time to a university where he has invested effort and resources, Invenieo, which is located in rural Costa Rica. There engineers and technicians are trained in market areas such as industrial engineering, mechatronics, and renewable energies, mainly.
"We want to form small owners and employees who are very dynamic and valued. We widely believe that micro-enterprise is part of the greater wealth that is generated in countries and creates more jobs in its entirety than large companies with higher investments."
---
To achieve this, the Professional of the Month believes in education as the fundamental pillar. "We want strong employees, trained technically and as people (employers must always set an example). Knowledge gives freedom to employees, an educated person can sell better, feels free so that wherever he is he knows that he depends on his skills to develop. An educated collaborator generates better income for the organization, as he recommends better products for the end customer, who is the most important thing to have a better return on investment in what he acquires."
Your market vision
The Costa Rican market has a good number of important companies in the sector. This is because the demand is high and the market is dynamic, but who better than Manrique to tell us about the evolution that the industry has had in his country in the years he has been working in it.
"I think the country has improved a lot in the quality of air conditioning and ventilation constructions. People are becoming more and more prepared. When I started in the 90s there were very few consultants and experts on issues in this industry. Now, with so much specialized investment that has arrived, it has forced us to prepare better. What we as a country can sell is service, and this is achieved by educating consultants and therefore contractors a lot, which has resulted in benefits to the industries that have been installed in the country."
Similarly, our guest predicts a promising future for the industry, not only in his country, but in the entire region. "I see the future as very broad, very specialized. Energy saving is an issue that is going to happen more and more, but we must change a little the way companies evaluate projects. Many of them want investment returns of six months to a year, while many of the products that are on the market have more extensive returns. Definitely the tendency is to be more aware of what is spent and this results in trying to use the most efficient and economically available for the systems."
Your main support: the family
Manrique Gutierrez married Lourdes Rosabal 20 years ago. From this relationship they have two sons: Daniel, who studies Industrial Engineering, and Felipe, who attends school in the seventh year. He lives in Escazú, west of the capital San José, and playing sports is one of his main hobbies.
"It is very interesting to do the sport because it generates discipline, it keeps one with a healthy body and mind, and also develops very important friendships with the colleagues with whom one shares almost daily, I call them my companions of "pain", because many times you suffer a lot and there is no right to complain, this is similar to what happens to you in life and in business. By the way, I'm a fan of Deportivo Saprissa and my country's national team."
Finally, our guest concludes by sharing his personal experiences, considering himself a faithful believer in God and the church.
"I belong to a Catholic movement of the Virgin of Schoenstatt of Costa Rica, where we have a very great responsibility that is to help Evangelize our environment, something very interesting and important for society, because many of the things we defend and promote are fundamental for the best life of society, in issues such as family, formation of the company with values, this means, for example, in some issues such as treating our employees according to what we believe should be an orderly family (father / mother / children), not making them work unnecessary overtime (affects their family environment and the balance they must have in life), we also encourage them to participate in the profits of the company, we try in the business to get the best out of each of them, promoting a continuous education of mutual benefit, also giving them a lot of confidence in decision making, in short... treating them in a respectful way where they can say that at work they feel good, can help them live better, serve society and why not, as one thinks, serve God better."