Mexico. Excited and proud, the leaders of the Mexican company Stulz declared themselves after receiving the Corporate Social Responsibility (ESR, according to its acronym in Spanish) distinction.
The ESR is a recognition that the Mexican Center for Philanthropy (CEMEFI, according to its acronym in Spanish) gives to organizations that successfully complete a process of self-diagnosis of their socio-environmental commitment to their respective stakeholders.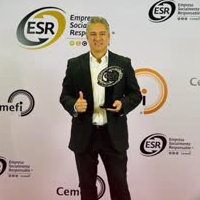 "This achievement reflects our strong commitment to social responsibility and sustainability. We are ready to continue making a positive impact on society and the planet", said Emigdio Granillo, director of Stulz Mexico.
The executive also reaffirmed the company's commitment to the ethical development of its business activity, in harmony with its core values. He also thanked his team, as well as his customers and partners for their contributions to the responsible growth of the company.