International. The third edition of the Refrigera expo has been the occasion chosen by Frascold to present its new image and its newly developed heating solutions.
Through the redesign of its identity, the company seeks to project a renewed vision, which makes sustainable innovation the central axis of its growth strategy. The idea is to position the new value system throughout the organization to realize a state-of-the-art offer of heating systems and heat pumps.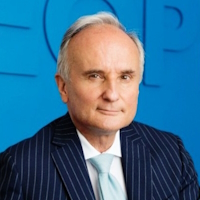 "We mixed the colors blue and orange on a temperature measurement scale, represented by the symbol of degrees. This reflects our desire to position ourselves in the heating sector as well. In particular, we want to go beyond the technical-functional performance of the products and assert ourselves as a reliable, flexible and innovative partner, not only in the refrigeration sector, but also in the heat sector," said Giuseppe Galli, CEO of Frascold.
New range of compressors
The HT series of Frascold piston compressors will be launched in the propane version and is designed for use in air-to-water heat pumps. These products supply domestic hot water at a temperature of up to 80°C, thanks to a gas compression of up to 40 bar.
Thus, this technology overcomes the limitations present in current heat pumps, capable of heating water only up to 45 °C, compressing the gas to a maximum pressure of 30 bar.
Another advantage is the optimisation of the compressors by completely redesigning their internal components to ensure proper operation in different climatic conditions, even with external temperatures down to -25°C.
HT compressors run on R290 propane natural gas and are ATEX certified. In addition, its environmental impact comprises a zero SDG and a GWP equal to 3.
"Contributing to an effective ecological transition is based on the search for increasingly advanced solutions. The future development of the company moves along this guideline and that is why we are, in fact, the first to offer the market this original technology for high-temperature heat pumps," Galli concluded.
About Refrigera
This event takes place in Italy and focuses on the industrial, commercial, and logistics refrigeration supply chain. This year, it is scheduled from 7 to 9 November and Frascold will be present in Hall 30 / Stand A2 B1.