Puerto Rico. The Ochoa Building is a historic six-story mixed-use property with commercial spaces on the ground floor and offices above. Built in 1923, the Ochoa Building is part of Old San Juan, Puerto Rico's oldest settlement and the historic colonial district of the city of San Juan.
Several buildings and structures in the area, including La Fortaleza, the city walls and the castles of El Morro and San Cristóbal, are designated as a UNESCO World Heritage Site.
Reliable Controls' authorized distributor, UPM Group Building Solutions, recently installed a branded building automation system in the Ochoa building. The UPM Group replaced the building's old cooling tower control system and 60 water source heat pumps and integrated a new dedicated outdoor air system and lighting controls.
The RC-Studio software allowed the UPM Group to seamlessly integrate mechanical equipment from multiple external suppliers via BACnet. This easy-to-learn and easy-to-use BACnet advanced operator workstation provides a customizable multiprotocol solution for database, alarms, scheduling, trending, and operations scheduling sequence. RC-RemoteAccess software, a flexible BACnet secure network solution, saves building operators time and money by simplifying IT management and improving the security of data communications.
The backbone of the new building automation system is a MACH-ProWebSys controller, which can control hundreds of sensors and actuators using standard protocol networks. Today, facility administrators can access the system over the Internet thanks to the controller's powerful built-in web server.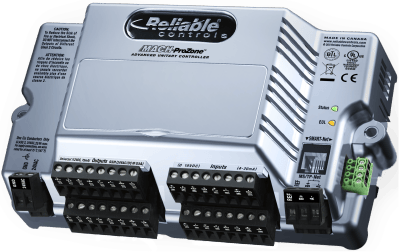 For small and medium-sized roofing equipment, heat pump applications and small mechanical room control, the UPM Group installed 12 MACH-ProZone controllers (photo), each of them a fully programmable BACnet building controller with highly scalable inputs and outputs. 36 SMART-Space Controller devices with dedicated temperature sensors installed throughout the building allow occupants to adjust comfort parameters related to their space.
The UPM Group also integrated lighting control into the building automation system with an advanced MACH-ProLight lighting controller, a freely programmable BACnet building controller that provides 0–10 V continuous dimming and binary lighting output support. Facility managers can use MACH-ProLight to implement advanced control strategies, such as daylight utilization, dimming to shutdown control, vacancy control, and more.
The new and efficient Reliable Controls system means that this historic building meets the needs of its owners and occupants today and in the future.