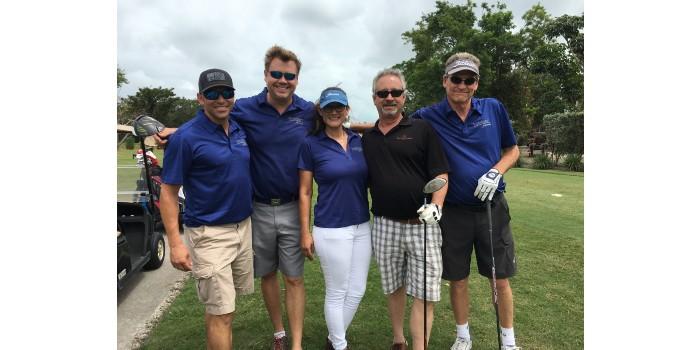 We recognize the career path of a woman who loves the HVAC industry, Tulia Rios, who currently serves as Senior Sales Engineer at Flow Control Technologies Company.
By ACR Latin America
Tulia Ríos is a Colombian born in Bogotá, who at the age of 12 went to the United States, where she now serves as Senior Sales Engineer of the flow Control Technologies Company.
Tulia is a charismatic person, with a great facility to make friends and integrate, but she is also a great professional, knowledgeable about the air conditioning industry like few others and lover of her work. In this space we want to recognize her career and give the possibility to our readers to meet a professional of integrity.
Career
Already in New Jersey, Tulia graduated from the Institute of Technology in mechanical engineering in 1994 and it was at the end of 1995 when she moved to Miami with her family and where she got her first job as an "engineer" but quarters at the Miami Airport JW Marriott, where she was the first woman hired in that position. Later, she moved to Panasonic Latin America as a sales executive for the Caribbean area where she sold home appliances, including window air conditioning and mini Split. "It was there that I became very interested in getting into everything that refers to air conditioning, since my AC sales to the Caribbean were more than 40% of all my sales in general," he said.
Seven years later he arrived at the Haier company, where he only lasted a year and then joined Carrier Inter-America where he had the opportunity to delve fully into air conditioning. In Carrier I worked as an Inside Sales Engineer supporting the engineering group, and then under the supervision of Giana Solis, Alejandro Arencibia and Rolando Ponce I was working as An Outside Sales Engineer in the Caribbean and Colombia area. After four years at CIAC I decided to accept a position at Carrier UTC as an Outside Sales Engineer for the Miami area, and that's where I took a lot of interest in joining ASHRAE," Tulia said.
Four years later, Nuestra Profesional accepted an offer from Protec Inc to work as a Sales Engineer offering Protec Cooling Towers and Aaon among other brands for the South Florida area. Two years later he took a job with Luvata Electrofin which changed to Modine Coatings, where he spent six and a half years and now, a few months ago, accepted a super offer with Flow Control Technologies Company, LLC as Senior Sales Engineer. "In this latest venture I am learning a lot about indoor air quality, especially precision control for critical areas such as laboratories, pharmacies and hospitals."
Another important aspect of Tulia's career has been her time at ASHRAE: "ASHRAE has taught me a lot about the industry and has also given me the opportunity to meet many people who come together for the same purpose worldwide. Knowing that I am part of a group whose vision is to do what is possible to provide a healthy and sustainable environment for all is very rewarding."
Now let's know some opinions that our guest has in front of her professional career and in front of the current situation of the industry.
ACR: What are your personal challenges, your fears, and your next goals to meet personally and professionally?
Tulia: My personal challenge is always to have Christ at the center of everything I do in my life. My fear is to turn away from Him. I am not perfect nor do I try to be, I just know that the love of Christ fulfills all my needs and makes life more bearable.
I love to travel, I think I work just for the pleasure of traveling, and now that we are in these times of not traveling it has been very sad and difficult for me. One of my close goals is to graduate from Florida International University (FIU) with a master's degree in business administration with a focus on Innovation and Entrepreneurship, I already have only one year left to graduate. My goal professionally is to be able to create my own company.
ACR: What challenges do you face as a professional?
Tulia: One of the biggest challenges in the Florida market is that it's based a lot on price and not so much on the features that the products stand out. Engineers and mechanical contractors must be kept well informed. I also think sales have a lot to do with your personality and the relationships you forge with your customers and your co-workers. Industry changes towards environmental conservation are constant and ASHRAE has been the most important platform for training in these changes.
ACR: What do you think are the reasons for your recognition in this market?
Tulia: Over the years I have maintained my relationships with everyone I meet in the industry, not only in the form of colleagues or clients, but creating strong bonds which are nurtured with honesty and perseverance. In the more than 20 years in the industry it gives me great pleasure to be able to return to my land and travel to different parts of Latin America and the Caribbean not only to promote products, but to be part of the industry and be active in the different events such as Refriamericas, AHR Expo and ExpoAcaire.
I have contributed my time to ASHRAE since becoming a member in 2008. I have held all board positions of the Miami chapter, from secretary to presidency in 2017 to 2019, being the first female and Latina president since the chapter was founded in November 1955.
ACR: What has been the evolution that the industry has had in the years you have been working in it?
Tulia: The industry is constantly shifting towards environmental sustainability and trying to reduce the carbon footprint in buildings. The biggest changes I've seen is that air conditioners are more compact, easier to transport and install, and much more energy efficient.
For the reduction of damage to the ozone layer, changes have been made in refrigerants and these continue to evolve. CFC and HCFC refrigerants have been eliminated due to their high chlorine content which affects the ozone layer and HFC refrigerants have been established which consist of hydrogen, fluorine and carbon and are less harmful to the environment and are still looking for another type of refrigerant that helps the environment.
Technological implementation has led the industry to become more concerned with building design by optimizing indoor air quality, especially in critical areas such as laboratories, medical offices, hospitals and surgical wards. The design of air movement valves and intelligent controls are critical for the instant reaction of changes in the air and keeping areas with negative or positive pressures and avoiding contamination of adjacent spaces.
All manufacturing companies are looking for a niche that gives them that competitive advancement in their products. There is no bad product, only that your sellers have to believe in your product and know the need of customers in order to provide the best solution available. The way to stay afloat in any market is by training vendors, engineers, mechanical contractors, and the consumer.
ACR: How do you see the future of this industry in Latin America?
Tulia: The air conditioning industry will continue to evolve with the need to maintain a clean indoor environment while taking care of the outdoor environment for the future of our generations. Technologies such as Artificial Intelligence, "Internet of Things", and "Big Data" will come to occupy an important place in the future designs of air conditioning systems, delivering a specific solution to each user, helping them with energy savings and providing healthier environments. Expansion in Latin America is eminent. Air conditioning manufacturing is growing in countries like Colombia and Brazil, and as building equipment and solutions become more economical and efficient, this equipment will become more affordable for the consumer of an economy as vulnerable as Latin America.
ACR: Do you remember any anecdotes?
Tulia: My father was an aviation and car mechanic, whenever he could he would take me to help him pass the tools and teach me about car mechanics. When something electronic or mechanical was damaged in the house I tried to disassemble and fix it, this is what prompted me to study mechanical engineering. In some of my jobs I have stood out for being the first woman to hold the positions, in Panasonic Latin America I was the first female sales executive for the Caribbean, the Japanese always employed men for those positions, but being the assistant of one of them, when he resigned I insisted on showing them that I could make sales, until I was promoted.
I have always strived to give the best of myself for my jobs, not only with work knowledge but also personal. I have learned to see the best in life on any occasion and not to let the bad things that usually happen affect me personally. I am outgoing, intuitive and positive. Leading comes naturally to me. I care a lot about the people around me and I believe that success is achieved as a team, you don't succeed alone. In a meeting I don't feel sorry to talk to those I don't know, I like to engage in conversations from which you learn a lot about people and their world.
The personal side
Tulia is the youngest of six children. His father, who died 7 years ago, was an aviation and car mechanic; he worked in Colombia for the airline Avianca, in New Jersey he established himself as a car mechanic, and in Miami he opened his own mechanical workshop. His mother became an educator and eventually became rector of two schools at different times. Our professional recognizes the effort of her parents to reach what she is now.
Who knows Tulia, knows that she is passionate about dancing and staying in good shape: "I do exercises like Kickboxing, Zumba, CrossFit, running and playing volleyball. On Saturdays I like to go to the beach to watch the sunrise and walk on the sand. I love dogs, I have four puppies, one of them is Colombian. I listen to all kinds of music and I'm a fan of Millonarios."
Finally, Tulia shared with us that "what I like most about myself is that I care a lot about humanity and I consider my friends forever, no matter if they are close or not. What I like least about myself is that I'm a little messy with my time. It is somewhat difficult for me to follow imposed schedules, but it is not impossible for me."