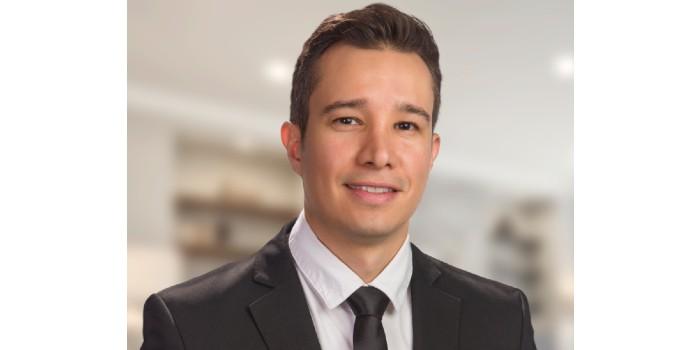 We recognize the career and effort of Sebastián Múnera, Service Manager for Latin America of Daikin, a professional who at his young age has managed to overcome many objectives.
By ACR Latin America
In general, when a 7-year-old boy thinks about his future he says he wants to be a policeman, firefighter, astronaut, footballer or even superhero, but this is not the case of Sebastián Múnera, a Colombian, born in Medellín, who at that age was already very clear that he wanted to be a mechanical engineer.
Yes, it sounds strange, but surely this is the case for many of you. Sebastian has forged his career based on that thought he had since he was a child and throughout his career he has managed to do things that very few achieve. At 13 years old and with his first set of rachet given by his father, he was already executing repair processes in a renowned soft drink company. "At the age of 17 for the Senior project I managed to work at Sofasa, an assembler for Toyota and Renault, in a rotational program documenting processes and technologies; at the end I went to university in the United States to graduate from Florida International University in Mechanical Engineering as I visualized it as a child," said Sebastian.
On details of his link to the industry, our Professional says that "during the undergraduate I discovered that thermodynamics I liked more than the mechanics of materials and I opted for a certificate offered by the university in "HVAC Systems Design" and upon graduation I obtained a position as a "Project Engineer" in an Air Conditioning contractor in Miami that specialized in Hospitals. "
Later, a year after the real estate crisis of 2007-2008, Sebastián did "a master's degree in "Thermal and Fluid Systems" also at FIU where I obtained an "assistantship" while doing research at the Energy Systems Laboratory participating in the construction project of the "Solar House" certified LEED Platinum and totally self-sufficient with a bank of deep cycle batteries that stored solar energy and had an automated system that simulated the routines of a conventional home, including the operation of a Daikin Air Conditioning system that dissipated heat to a geothermal system."
His career continues with a specialization in modeling energy systems at EnergyPlus and he calibrated the model with real systems equipped with dataloggers to ensure that the behavior of the building reflected reality and to be able to modify the HVAC systems and compare the most efficient solution.
He highlights as his mentor Edmundo Kamel whom he considers a reference in HVAC Service in Latin America and the United States, and who invites him to work with him at Carrier as a Service Engineer, where he was for 7 years before coming to Daikin, where he arrived as the Territory Manager of the Caribbean and in the last two years he serves as Service Manager for Latin America.
In this interview, let's learn about other aspects of the Professional of the Month:
ACR: What are your personal challenges and your next goals to meet personally and professionally?
Sebastian Múnera: My personal goals are related to the happiness of my daughters and accompany them to live their dreams. A few months before Covid-19 I shared with my colleagues at lunch that living a little below our own standard can be the secret of well-being, and I see that it is now more relevant than ever. The goal to meet professionally is to be leaders in Service in Latin America, it is already detailed until 2025 and it will be a spectacular journey.
ACR: What challenges do you face as a professional from the point of view of employee relations, technological innovation and the objectives that must be met in the market?
Sebastian: Service will always be a segment that receives continuous scrutiny and emotional intelligence is needed to demonstrate balance in times of high tension and generate security in the team especially when acting with determination.
In Daikin we are privileged to have the most advanced technological tools from the CRM that we also use in the management of Service to work opportunities, document cases, measure KPIs, dispatch console and others, to the ERP or the remote monitoring center that has been in operation for more than a year and now we are helping our clients to reactivate their business without having to visit them physically. The challenge with technology is to create effective onboarding processes and the development of constant training.
ACR: What has been the evolution of the industry in your country in the years you have been working in it?
Sebastian: In the industry, the learning time in the technical area has been reduced through the availability of information and specialized video call mechanisms even with virtual reality. Fieldwork can be part of the "gig economy" or "Service on Demand" especially with the affinity to the "uberification" of millennials.
In Latin America, not all customers have the budget to pay for a service from the manufacturer, and systems such as Intelligent Equipment that uses the Internet of Things make it possible to develop predictive maintenance at a lower cost and recommendations are implemented as needed.
Advice on disinfection and good indoor air quality is a current need and in Daikin Service we attack it with a series of measures depending on the characteristics of the existing system.
ACR: How do you see the future of this industry?
Sebastian: I see as a threat the difficulty of maintaining a differentiation in terms of products, because they can become "commoditized" and that manufacturers are discouraged from continuing with high investments in the development of new technologies. That is why consumers in Latin America must look at the benefits of quality and efficiency with greater criteria to judge more holistically not only the products but also the systems and the After-Sales Service that is decisive in maintaining the stipulated life cycle of the equipment.
The demand for Technical Service at the beginning of the crisis has been greatly impacted because businesses are inactive, but it is anticipated that, as a result of the same crisis, as they reactivate there will be a tendency to want to keep assets in better condition instead of accelerating replacement.
I see that an era of remote operation of systems through SaaS (Software as a Service) is approaching and at the time also being able to sell thermal energy with compensation models based on the factors that generate utility to customers.
Anecdote of the Professional
My first start in HVAC was some screw Chillers in a company of sodium hypochlorite and caustic soda equipped by Italian machinery in a town called Paramonga 200km from Lima, Peru. When I was offered the task I did not hesitate to accept and I studied the equipment very well. When I arrived at the plant, they had lowered the Italian flag and raised the Colombian flag and all the Italians went out to receive the "experienced" engineer who was going to make the production of the factory possible. I have to accept that this gesture exponentially increased the pressure and set aside the surprised face when they saw me so young. Fortunately everything went well and the plant was able to start, and from that moment I signed up for any challenge that forced me to investigate and master some skill. The same happened with centrifuges, absorption chillers, etc.
I believe that the trust they placed in me and the willingness to face those challenges are the perfect formula for progress. Whenever I have the opportunity to foster a growth situation for the team I do it and it is very rewarding to see the result.
Passionate about two wheels
Sebastian is married to Katherine, who is a Biomedical Engineer, an area in which he worked until 4 and a half years ago when his first daughter, Luna, was born. "Her brightest career has been since then at home and now also in the company of Alanna our 1-year-old daughter," she says.
Along with Luna, they are declared fans of Arsenal of England; his other great passion is motorsport, although he says he regrets to look very little like the MotoGP rider, Valentino Rossi: "Two wheels have been my passion, from motocross, road racing, BMX and mountain bike enjoying the mechanics in the same way as the "track days". As hobbies years ago I used to disassemble the motorcycle and store it in a closet and then put it back together and discover that it turned on. Today I find time to ride a bike with the family and do cross-training very early in the morning."