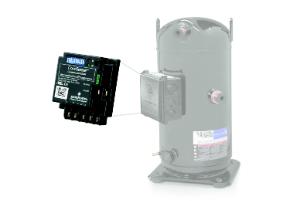 Compressors with electronic devices allow to diagnose, protect and communicate, which contributes to greater reliability in commercial air conditioning systems. By Carlos C. Obella*

Being able to meet the current challenges in the commercial air conditioning industry is becoming increasingly difficult, due to the limited technical skill of some contractors and the need to reduce maintenance costs. This landscape requires new and innovative solutions. Emerson Climate Technologies features the factory-incorporated CoreSenseTM Electronics Scroll Compressor that improves performance and reliability by sensing and interpreting information found within the same commercial air conditioning system. This new technology combines the ability to diagnose, protect and communicate. It is originally installed from the factory on Copeland Scroll compressors from 20 to 40Hp and makes identifying the root cause of a problem in the system now much easier than ever before. By analyzing fault history and unique detection algorithms, technicians can diagnose much more accurately what has been happening in a system. The device displays nine alarm codes capable of alerting and preventing the most common failures; such as overheating, phase reversal, low voltage in the power supply or short start and stop cycles, among others. Thanks to the current technological level of existing controllers, technicians can have access to more information in real time, such as the internal temperature in the spirals, status of the internal sensors and the latest alarms, by analyzing the operating history of the compressor. These powerful tools allow the technician to prevent costly shutdowns, thanks to early and more accurate fault detection. The CoreSense electronic device monitors the operating conditions of the system and is able to turn off the compressor, when it is necessary to prevent it from being damaged. The protection of the compressor is carried out by incorporating sensors in the spirals and the motor, in addition to the detection of voltage and current, which prevents failures by cycling or by blocked rotor, before further damage occurs. In addition, it is possible to detect adverse operating conditions due to lack or reversal of power phases in three-phase compressors. The CoreSense system allows you to prevent costly shutdowns, eliminate major repairs, and minimize damage. In addition, it has the ability to communicate with the system controller, using a Modbus communication protocol and an RS485 connection. Each compressor can be identified individually in a system. This opens up the possibility of remote monitoring for the purpose of detecting faults before they turn into severe damage. Both end users and contractors can now diagnose problems more accurately in multi-compressor systems, saving time and money. The ability to deliver more information, make more accurate diagnoses, and offer greater reliability, makes these compressors become a technological alternative that can improve the performance of systems.
*Carlos C. Obella is a mechanical engineer specialized in thermodynamics. He has more than 20 years of experience in the air conditioning and refrigeration industry and is currently the technical director for Latin America for Emerson Climate Technologies Inc.