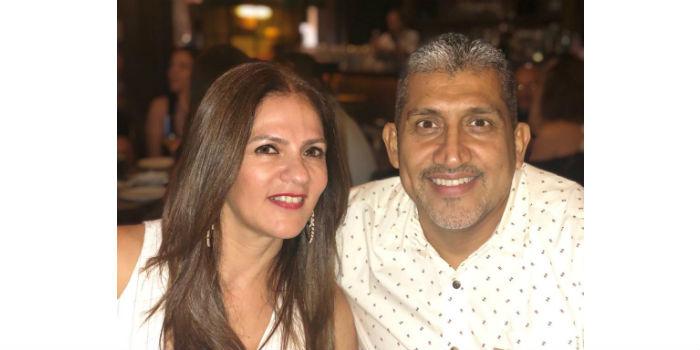 Fernando Grisales, General Manager of GrivanIngenieria, is the Professional of the Month of the Andean region.
by Duván Chaverra Agudelo
Those who know Fernando Grisales know the charisma and the good energy he radiates. Fernando is a guy who in addition to being recognized for his hard work in this refrigeration industry, also takes time to share some time with his people, talk and laugh with their stories and unique experiences.
That is Fernando, who thanks to the effort he made since childhood, has been able to successfully lead his own life project. It is for that and other reasons that he deserves to be recognized as Professional of the Month, even more so because his company, Grivan Engineering, is on the 25th anniversary.
It is worth knowing the life and thoughts of Fernando, not only in his professional field but also of the family man and lover of other activities that complement his daily life:
Fernando was born in Cali 49 years ago, is the youngest of four sons of the marriage of his parents Manuel Grisales Fajardo and Martha Castro Rodríguez, is the younger brother of Juan Manuel, James and Carlos Humberto.
His secondary education was received at the Fray Damián Gonzalez Franciscan school and my undergraduate studies were carried out at the Autonomous University of the West receiving the title of Mechanical Engineer in 1996.
ACR: How did you start your working life?
Fernando Grisales: My work life, informally, I started from a very young age, since I always liked business to have my own money and thus be able to help in my house and be able to give myself pleasure, doing tasks from packing in a supermarket, attending in a bakery or even selling different items in my school.
When I graduated from school, in 1988, I get my first formal job in a chain of supermarkets that today belong to the Casino-Éxito group, for a year I work in this chain and later I am given the opportunity to work in a refrigeration company: Industrias Refridcol, where at the same time I started my studies in Mechanical Engineering, in this company, I started my work as a warehouse assistant, later I was warehouse manager, purchasing assistant, purchasing manager, production assistant and ended my career as Production Manager.
During the six years that I worked in Industrias Refridcol I received from its owners and employees, the necessary knowledge to start in 1994 my life project that today celebrates 25 years and that I can proudly name: GrivanIngenieria S.A. During these 25 years it can be said that I occupied all the positions that can be in a company, from courier, technician, Engineer, seller, buyer and finally the one I currently hold as General Manager.
ACR: Who guided you on this path?
Fernando: I have to give that honor to my older brother, James Grisales, who is also a Mechanical Engineer and one day I expressed: "Why don't you study the same as me and then we set up a company together." And it was like a premonition. After my start of work at GrivanIngenieria, he reaches six months and for 22 years we have managed to get ahead, thanks to God and the enormous desire to succeed in life, mixing my passion for business and my ability to know where to buy and sell, and my brother's ability to manage business and control processes.
ACR: Why did you stay in this industry?
Fernando: This industry has too many opportunities in the face of the needs of the market, and I analyzed that in our country there were not too many companies that offered products with a high level of Engineering, and with specialized attention and service to the needs of customers. I analyzed that customers bought the products that were on the market, but not what they really needed, and that was where you could make the difference: giving excellent advice to buy what they really needed, because in my thinking there was never that we should sell cheaper than the competition, on the contrary, I thought that if we had a good product and advised customers well, they would pay for our product regardless of whether it cost a little more, thus managing to position ourselves in our country during these 25 years.
ACR: What challenges do you face as a professional from the point of view of the relationship with employees and collaborators?
Fernando: This is a very complex and a bit delicate challenge, since having all the employees in the company satisfied or happy is not easy, because many of the decisions that one makes are not to the liking of people, and that is where one as a leader has to make those types of decisions for the well-being and sustainability of the company.
Before being a boss, you must be a leader. I will never forget the words a colleague taught me: "In addition to being you must look." It may be that you have a command position but it is very difficult for you to ask your collaborators to do things well if you yourself are making a mistake or do not do them as they should be.
ACR: What do you think are the reasons for your recognition in this market?
Fernando: I always say it with pride: the most important reason for our recognition in the market is that we have the only thing that other companies do not have and that is our "Human Resource". I always mention it to my customers, suppliers and mainly to all our employees and collaborators, because nothing we do would be possible without each of them. They carry out a very important work, from the directors to the messenger and the lady of various trades. With that professionalism and knowledge they possess, we could not achieve that market recognition.
I would like to name each and every one of the company's collaborators to recognize them in this article, but since I know that it is not possible, I want to name the three directors who today support me unconditionally and have the mission of bringing this ship to fruition: in the commercial direction, with 18 years in the company, Eng. Mónica Ibargüen, who everyone who knows me knows that she is like a daughter to me; in the administrative direction , Eng. Maria del Pilar Gaitán, and in the direction of Projects, Mr. Jhon Polo who as he jokingly expresses was born on top of a compressor and to whom I express all my respect and admiration for all the knowledge he possesses.
ACR: What has been the evolution of the industry in your country in the years you have been working in it?
Fernando: In 31 years that I have been in the industrial refrigeration industry and about 10 years ago in air conditioning I can say that our country has evolved along with world markets. Of course, they are not the same teams as they were 31 years ago. Today there is talk of cold chain, which generated the manufacture of air-conditioned process rooms, dispatch bays with controlled temperature; we have large cold logistics centers that did not exist before and hand in hand with equipment of capabilities that previously would not have imagined how to build them with condensing units one by one.
Today these capabilities can be achieved with centralized rack-type systems, new refrigerants that in their compression ratio are more efficient and closer to natural refrigerants; air conditioning equipment with SEER 21 efficiencies, but thanks to the opening that occurred in our country for imported products a few years ago and the ease of doing business with other countries in the world, I can affirm that what I have seen when I travel is not very distant from what we have in our country.
ACR: How do you see the future of this industry?
Fernando: I think it is a growing industry where there is still a lot to do, because the per capita ratio of our countries compared to others in the world in the cold chain is still well below the world average. However, buildings, hotels, research and convention centers are being built with the highest standards and certifications and we are developing technological improvements with our own engineering, without depending on the United States or Europe.
ACR: Do you remember any anecdotes from which you learned for your professional work and personal activity?
Fernando: I will never be able to forget when I was warehouse manager as an employee and I asked the refrigeration technician, humberto torres (QEPD) to open his tool drawer to take inventory and he told me that he was not going to do it because I was 19 years old and I was a little boy, that he was not going to listen to me... so I assumed my position as warehouse manager and with a lot of fright I opened the drawer myself and he got so angry that he chased me all over the plant. After that incident we became best friends and he was one of the people who taught me the most in life about the technical part of a cooling system.
Another is how to forget when you damage a piece of equipment and have customer pressure on you. The first screw we sold to a poultry industry came poorly connected from the factory and the coil at the start burst, and that's where you see the quality of the suppliers it has, since the company that sold me the equipment gave me their support immediately and flew the coil from Germany, in three days we already had it installed where the client and the equipment working. That same company invited me to a convention they developed in Colombia and in one of the talks they gave us, one of the engineers expressed: "There are no bad compressors or bad equipment, there are bad selections or applications and bad installations", a phrase that I always remember when a team fails, because no computer fails.
The other life of the professional
Fernando has been married for 19 years to Luz Marina Bedoya, who is the Deputy Manager of Grivan Engineering, with whom he has 2 children, Isabella, 14 and Luis Fernando who turns 12 in November.
Of his wife he commented: "We met because we studied at the same university, and she has been for 27 years my friend, my partner, the love of my life, the reason for my being and all the qualifiers that I can give her are few for her, because she is the best woman that a man can have by her side and most importantly, he is very intelligent, he has known how to take me during all this time with that intelligence that he possesses".
Fernando also has a 26-year-old daughter named Maria Fernanda, who is currently the head of human resources at the company. "Every time I tell her that she is the partner who has most breastfed the company, tears come out, because I will never forget the first years, where we work until the weekends and late at night and she being very small I saw little, and yet, even though I never stopped seeing for her and being by her side at the most important moments of her life. I wanted to express this, because nowadays with my younger children I have more time to share, and I realize that the time one spends with their children and loved ones is priceless.
In sport, Fernando recognizes his few skills, but he always tried not to be chosen for matches... but that never frustrated him and that is why he is a faithful follower of America de Cali. "I say that with pride, one only has the heart and blood of a color and it is red so I will always be of the "America of Cali".
But he found in cycling a sport that he enjoys and in the "I am good", which has also allowed him to meet new friends: "at the age I have to meet new friends it is not so easy, and that allowed me the bicycle, so by end and end I am won with the bike, for today this is my hobby."
Another activity that he is passionate about is traveling, which has left him many experiences: "Thanks to my work I have been able to know many countries that I initially visit to acquire new technologies or knowledge about the industry in which I work, but at the same time I know their cultures, foods or places of tourist interest; today I continue to travel and I try to enjoy it accompanied by my family."